Parking bays to be widened in UK following SUV boom
The growing popularity of SUVs has caused car park collisions to rise by over a third in the last two years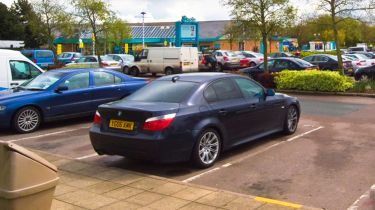 Car parking spaces will be made bigger in the future to accommodate the rising number of SUVs and large 4x4s which have caused a sharp rise in the number of car park accidents, the UK's largest car park provider has said.
National Car Parks (NCP) said it has already widened parking its bays in London, Manchester and Bournemouth to cope with the country's love affair with SUVs, 4x4s and large family estates. According to figures from courtesy car provider Accident Exchange, there has been a 35 per cent rise in car park related accidents since 2014.
• Best 4x4s and SUVs to buy in 2016
Speaking to the Times, the NCP said it is widening bays to "allow for easier use for bigger vehicles." The current standard for parking spaces in the UK is 4.8 meters long and 2.4 meters wide – making it a tight squeeze for cars like the Audi Q7, BMW X5 or Mercedes' GLS-Class – all of which exceed the 4.8m length. SUVs like the Nissan Qashqai are some of the best selling models currently in the UK, and the latest figures suggest nearly one in three new cars sold is an SUV.
However, the company acknowledged that widening bays comes at the expense of fewer parking spaces, and said there exists an "extremely fine balance" between creating wider spaces and answering calls for more parking.
A spokeswoman for the NCP said: "We are moving towards making the bays wider as we recognise that vehicles are growing in size, especially SUVs. Going forward, it is our intention to provide bigger parking bays wherever possible to do so."
Scott Hamilton-Cooper of Accident Exchange, said: "Some drivers feel certain car parks are no-go areas due to the sheer length and width of their cars.
However, the plans have been met with opposition from campaigners, who believe that widening bays is penalising motorists who've opted for smaller, eco-friendly cars.
Doug Parr, chief scientist at Greenpeace UK, said: "Making more space for large gas guzzlers at the expense of other cars is the opposite of what we should be doing. We need to rethink our transport infrastructure so that those who make the right choice for our health and the environment are rewarded, not penalised."
Should parking spaces be made bigger? Tell us your thoughts in the comments below...