Elemental RP1: new British sports car revealed
Surrey-based start-up Elemental reveals new road-legal track-focused RP1 ahead of Goodwood debut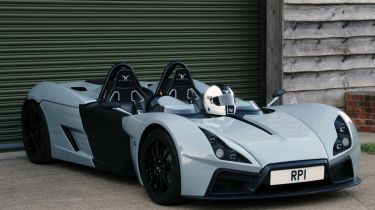 Elemental has revealed its new RP-1 road-legal track car ahead of a public debut at this weekend's Goodwood Festival of Speed.According to the Surrey-based start-up, this open top, mid-engined two-seater will arrive early next summer and previews a "new generation of world class British sports cars".
The design centres on an exposed lightweight carbon-composite and aluminium tub, surrounded by front and rear body panels "shrink-wrapped" to cover the wheels and mechanical underpinnings.
As we reported earlier this month, the tub features a moulded racing seat that's tilted for a race-inspired, feet-up position and is intended to keep the centre of gravity as low as possible. On top of improved underfloor downforce, Elemental believes this makes it easier to adjust the dynamics set-up, enabling one person – armed with spanners an Allen key – to tune the RP1 for track and road use.
Power comes from a Ford-sourced 2.0-litre Ecoboost engine, tuned to 280bhp and paired to a six-speed sequential paddle shift gearbox. Customers with racing in mind can opt for a limited slip diff and alternative gear sets, although a reduced-weight track-focused model, featuring 999cc Honda Fireblade unit, is also available.
That's because the rear subframe features a cassette-style engine mounting system, allowing for various different powertrain options. The third engine option on sale at launch will be another tune Ford unit, the three-cylinder 1.0-litre EcoBoost, which Elemental expect to balance performance with efficiency.
Inside the open air cabin there's a wraparound dash, incorporating a central engine start button and multifunction display. This screen can be used to display data from the GPS system, G-load sensors, data logging, and a CAN data signal feed from the ECU for powertrain monitoring.
Adjustable pedals and carbon fibre race seats will accommodate drivers taller than five foot and shorter than 6'6", and there's a multifunction steering wheel including backlit buttons for the indicators, main beam and horn.
Practicality for the Ariel Atom 3.5R rival comes in the form of two luggage pods located either side of the engine bay, and there's LED enhancing for the indicators, plus the brake, rear and daytime running lights.