Elemental RP-1: new British track car teased
Surrey-based start-up Elemental previews new RP-1 sports car, ahead of a debut at this month's Goodwood Festival of Speed
This is the RP-1, a new sports car from Surrey-based start-up Elemental that is set to debut later this month at the Goodwood Festival of Speed before entering production in 2015.
A lightweight two-seater that's track-focused but road legal, the open-top racer is the brainchild of Elemental Cars technical director and founder John Begley.
According to an online statement, it's designed to "be easily configured by the driver for their driving style and driving environment," featuring suspension and controls that the company claims are easy to adjust."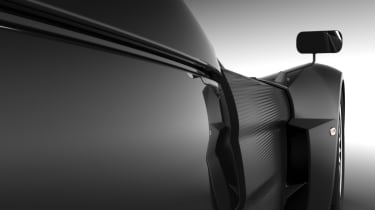 Maintaining the track-day emphasis are interchangeable body panels, backed up by a Ford-sourced 280bhp 2.0-litre EcoBoost engine tuned by Elemental.
Combined with a carbon composite and aluminium tub that apparently helps keep weight down to as little 450kg, the RP-1 boasts a power-to-weight ratio of 500bhp per tonne. There's scope for improvement too, as a cassette engine installation means further options will be available in future, as well as individual performance upgrades.
Elemental hasn't revealed what this means in terms of performance, but expect blistering pace, which drivers will enjoy from a moulded racing seat that's been tilted inside the carbon fibre cockpit for a race-inspired, feet-up position. This is designed to keep the centre of gravity as low as possible, improving the front diffusers downforce.
Practicality on the road hasn't been completely sacrificed in the pursuit of quicker lap times though, and there are wheel-mounted controls and paddle gear shifters behind to offer improved ease of use.
On top of this, Elemental believes the RP-1 offers sufficient ground clearance and a suitably tight turning circle – as well as decent emissions and range – for use on British roads.
The only major downside at this stage appears to be for anyone shorter than five foot, or taller than 6'6", as the adjustable seating and pedals can't accommodate beyond this range.
Expected to rival the new Ariel Atom 3.5R and Caterham 7 620R when it arrives next year, we'll keep you posted as price and specification details are revealed nearer to launch.
Is there room for another British track day weapon on the market? Can Elemental really unseat the established names in this increasingly crowded sector? Tell us your thoughts in the comments section below...