'Today's buyers really like innovation and difference'
Editor-in-chief Steve Fowler looks back at the exciting 2017 Tokyo Motor Show, and talks of the importance of concept cars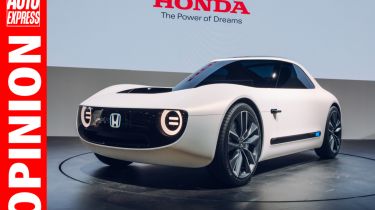 The Tokyo Motor Show really is unlike any other – as our team out in Japan revealed. The home car makers really go to town with wild and wacky concepts that promise so much, but in the past have tended to deliver so little.
However, I'm hopeful that could be about to change as there seems to be a new wind blowing through the Japanese car industry. At long last, they seem to have woken up to the fact that today's buyers really like innovation and difference.
• Best cars of Tokyo Motor Show
Toyota is one step ahead on that, with cars like the innovative C-HR SUV on sale and providing a refreshing (and popular) point of difference in a crowded sector. There's more to come from Toyota including sports cars under its Gazoo sub-brand.
Honda followed up its brilliant all-electric Urban EV concept from Frankfurt with a similarly stunning Sports EV concept (above) in Tokyo – in our view, two cars that Honda simply has to build. 
Similarly, we saw concepts from Nissan, Mazda, Mitsubishi, Lexus, Subaru and Suzuki that could all help to boost their maker's fortunes if – and it's often a very big if – they can get anywhere near production.
One company that has a very clear idea of what its concepts can do for the bottom line is Jeep. It's also probably the most prolific company when it comes to producing concept cars – giving clues to exciting new models or tempting owners to spend more cash modifying their cars.
I was invited to Jeep HQ in the US to meet the team behind the latest concept cars – and to drive them! FCA group design boss Ralph Gilles has a clear view on the role of concepts to his business. He describes them as 'endlessly valuable' – we'd echo that. The concept car plays an important part in the car business and we love 'em.
Which was your favourite car from the 2017 Tokyo Motor Show? Let us know in the comments below...