Winter safety tips for motorists driving now the clocks have gone back
The clocks went back on October 29 and we're driving more in the dark. Protect cyclists and pedestrians with these winter road safety tips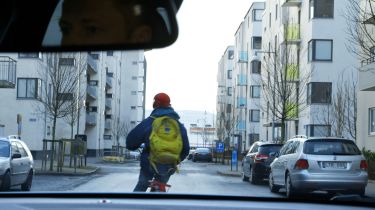 Now the clocks have gone back, the difference in time means that a higher proportion of us will be on the roads in the dark. Which means, as the days grow colder and the roads get slippery, UK motorists are faced with more hazards than they saw during the previous summer months.
Cyclists rank top of the vulnerability list, often blending into the bleak surroundings making them incredibly hard to see. Low light and reflective road surfaces add to drivers' troubles, making it difficult to see road users on both two and four wheels. The increased number of hazards is the reason for us collecting these top tips, so drivers can help ensure that they, their passengers and other road users stay safe in the dark days ahead.
Top safety tips for motorists this winter
1. Clear your field of visionA lower sun is a nightmare for your visibility, irrespective of whether you are in the passenger or driver's seat. Freezing weather and damp roads exacerbate this, making it incredibly challenging to spot hazards. To prevent stacking the odds further against you, allow extra time for your car to completely demist, then check the glass is clean, and also make sure all ice and snow has been removed from the body of your vehicle. Additionally, you are going to want to take a pair of sunglasses with you – a final prevention measure which can be a a real help.
2. Check your lightsEnsure that all your lights are working. Ask someone to watch from outside the car as you check all your lights. Check the headlights, indicators, brake lights and reverse lights. If any fail to work, it could mean a cyclist would fail to see you slowing, turning or coming towards them. Seeing and being seen are crucial in the winter gloom.
3. Beware of slippery roadsBe aware that cold and damp conditions change the road surface and make any manouvre more treacherous. Ensure your speed matches the conditions and watch out for cyclists on slippery surfaces, particularly at corners.
4. Take your timeTake more time at junctions. In full daylight you may just take quick glance to check that a cyclist isn't coming but in the low light conditions of winter mornings and evenings extend this time to be completely sure that pulling out of a side road won't cause an accident.
5. Take note of danger points on your journeySome junctions can be worse than others for spotting cyclists be aware of problem places on your route and take extra care. If you're travelling up a road and attempting to take a right turn, be wary of cyclists coming up the side of your car or from behind oncoming traffic.
The basics of safe driving like preparing your vehicle, using your observation skills and managing your speed become even more necessary as the nights draw in. Give yourself enough time and space, and drive to the conditions. Keep to these rules and all road users, motorists, cyclists and pedestrians, will be safer for it.
Winter Special: stay safe on the roads this winter