Hot hatchbacks
We find out if the all-new Honda Civic Type R has what it takes to beat the very best in the hot hatch market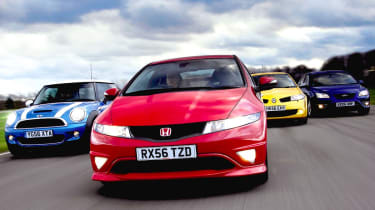 This is it. After more than a year of build-up, the all-new Honda Civic Type R has finally touched down. No more teasing pictures or technical hints, not even a foreign first drive – instead, our first taste of the Type R is a full group test on UK roads.
Over 35,000 examples of the previous-generation Type R were sold here – more than the rest of Europe combined, and far beyond what bosses expected. The UK market is so important to Honda that we've got the new car before any other country in Europe.
Order books are open and prices start at £17,600. The Civic has a normally aspirated 198bhp engine and, as with every other class competitor, channels its power through the front wheels via a six-speed manual gearbox.
Deliveries begin on 1 March – but should you join the queue? To find out, we have lined up an eight-car group test, with the new Civic, built in Swindon, Wiltshire, going up against all of the leading hot hatches currently on sale.
However, in order to cover the top contenders in more detail, we have had to whittle our shortlist down to a four-car final reckoning. So, some very talented metal has fallen at the first hurdle in our efforts to ensure the Honda faced the best possible mix of rivals. 
Those that did get through the first round of judging are the new Renaultsport Mégane R230, with its limited slip differential, the MINI Cooper S (our reigning champ) and Ford's Focus ST. The fact that the ST is the oldest car here, and only recently celebrated its first birthday, shows just how quickly this class is developing.
Verdict
Honda has fulfilled its promises. The Civic Type R is more easy-going than its predecessor, yet retains its sizzling driving experience. In fact, the newcomer is better to drive not only than the outgoing machine, but also than every other car here – it wins this test by some distance.
The genius of the Honda is that everything on it has been honed until it worked in perfect harmony. No single aspect of the hatch, from the engine to the suspension, dominates the others. Plus, the pricing is competitive.
Our runner-up is the MINI Cooper S. Its zest for life is backed up by a superb turbo engine and truly talented chassis. Sneaking into third spot is the Focus ST which, despite a laid-back approach, remains highly rewarding.
That leaves the revitalised Mégane R230 in fourth. It's good in isolation, but couldn't match what we predict may well be the best car of its generation.