Porsche 911 Turbo v Lamborghini Gallardo
Porsche's new 911 Turbo and Lamborghini's Gallardo face up in a supercar clash to savour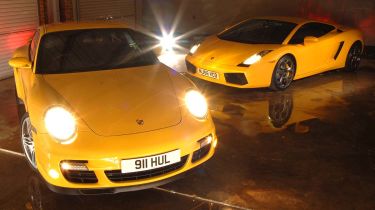 Turbo. It's funny how one small word can convey so much. Nowadays, turbochargers are found under the bonnets of nearly half of all cars sold in the UK. However, back in 1974, they were an exotic rarity – so when the Porsche 911 Turbo arrived 33 years ago, it was like a bolt from the blue.
Complete with 260bhp, not only was it the flagship of the 911 range, but it was also a bona-fide supercar, thanks to its high price and blistering performance. The same is true of the latest version, even though the 911 range now runs to 13 variants, with sales measured in the tens of thousands. Nevertheless, the sixth-generation model offers plenty of good reasons to get excited.
The variable-geometry twin-turbo flat-six makes 480bhp, which is delivered to the road via a six-speed manual gearbox and four-wheel drive. What's more, and somewhat unusually these days, the latest Turbo is lighter than the machine it replaces. However, when it comes to supercars, exclusivity counts, and with global sales of only 1,480 last year, the Lamborghini Gallardo is certainly a rare sight.
It recently benefited from a host of mechanical updates, including more power for the 5.0-litre V10, sharper steering and reworked suspension. The Gallardo is the ultimate fusion of Italian character and German attention to detail – don't forget that Lamborghini is now owned by Audi. But which supercar comes out on top? We took our two high-performance rivals to the track to find out.
Verdict
Make no mistake, both of these models are supercars in every sense of the word. They offer scintillating performance, added to four-wheel-drive traction and hugely rewarding handling.
The 911 Turbo is an incredible piece of technology. In terms of acceleration, it's the fastest car Auto Express has ever tested, and yet it's as easy to live with as any other Porsche. The problem is that it's almost too capable.
Its ability to deliver incredible pace so effortlessly and the fact the handling only truly comes alive at very high speeds means that lesser 911s are just as enjoyable to drive.
Although the Porsche will be cheaper to buy, own and run than the Lamborghini, it's the Italian that has the looks and rarity to stand out from the crowd.
However, its appeal extends beyond its stunning styling. The recent revisions have added polish to an already accomplished supercar. The Gallardo manages to be thrilling to drive, look at and listen to, no matter what speed you're doing – it's enthralling even on the most traffic-congested roads. In short, it makes you feel special – and that's why it wins.