Ford Mondeo v Honda Accord v Vauxhall Vectra v VW Passat
The new Ford Mondeo takes on family car rivals – the Honda Accord, Vauxhall Vectra and VW Passat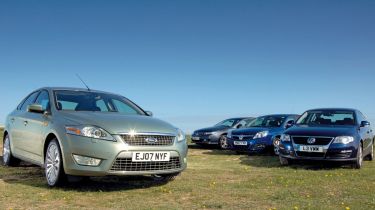 There's nowhere for the all-new Ford Mondeo to hide. After all the excitement, hype, teasers and build-up, it boils down to this: the new Mondeo versus the best rivals the ultra-competitive family car class has to offer.
What's more, we've been able to conduct our world exclusive first group test here in the UK, away from the pressures of the international launch. This willingness to let the car speak for itself demonstrates Ford's confidence in its new product. But will it prove well founded? It won't be news to you that Ford has invested heavily in the car's development – £500million alone has been spent at the Genk plant in Belgium, where all versions of the Mondeo will be built, alongside the S-MAX and Galaxy.
With four million examples having rolled off the production line since the first Mondeo hit the roads in 1993, it's little surprise Ford's European chief executive John Fleming claims: "No product is more important than the Mondeo." Styled by design chief Martin Smith and based on the Iosis concept, it shares a platform and engines with the S-MAX – the current European Car of the Year. But if the Mondeo is to repeat that feat in 2008, it will need to defeat the opposition lined up here.
The VW Passat is our current class leader, the Honda Accord a previous champ, and the Vauxhall Vectra fights the Ford head-on in the volume sector. But can the Mondeo see them all off? We aim to find out in the most important group test you'll read all year.
Verdict
So the new Mondeo is the best family car money can buy, but only by the narrowest of margins. The dull Vauxhall Vectra comes last – it's comfortable and has a good engine, but appalling residuals ensure its early dismissal. The same can't be said of the Honda Accord. Likely to be the most affordable to run of these four, unfortunately it's also the smallest, least practical and doesn't have the design, quality and refinement needed to lead the class.
The VW has all those qualities in spades and is a great all-rounder. And, despite Ford's efforts, we still think it's the most desirable car in the class and is just as good an ownership prospect. Yet the Mondeo does pull ahead in a few notable areas. It's bigger inside, has a far more versatile load bay, low running costs, is truly supple and has rewarding road manners. The family car class has a new champ – what can VW and Vauxhall do to hit back?