Turning Japanese
Which is the best British-Built Japanese car? We test UK-built stars from Nissan, Honda and Toyota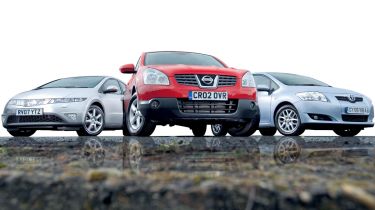 British motor manufacturing was booming in the late Sixties and early Seventies. At its peak, Austin, Morris and Rover helped this country churn out 1.92 million cars a year. Much has changed since then, of course, but the UK still has a motor industry to be reckoned with – and it's the Japanese firms that are driving it along.
Between them, Nissan, Toyota and Honda produced 45 per cent of the 1.7 million cars made in Britain in 2006 – and this year, all three manufacturers are set to make even more.
As the trio are all producing popular family hatchbacks at their UK facilities, we got them together for a shoot-out.
Nissan is returning to this market with the Qashqai – a crossover vehicle that blurs the boundaries between compact SUV and conventional hatch. But it doesn't have the monopoly on looks and image, as it's up against the Honda Civic. Its ultra-modern styling caused a real stir when it was first launched, and thanks to its smooth 2.2-litre i-CTDi engine and excellent interior, it's currently our class-leader.
Then there's the new Toyota Auris. In terms of styling, there's less to get excited by, but as with its Corolla predecessor, it's certainly a strong all-rounder, with superb reliability, and represents excellent value for money. So which of the three UK facilities turns out the best product? Join us as we reveal all.
Verdict
These three models prove car manufacturing is thriving in the UK, and it's great to see foreign car makers have faith in British workmanship. The fact that each firm will produce even more models this year than in 2006 illustrates confidence in the industry, too – good news for the future.
We were impressed with the build quality and finish on each, but the Civic retains its class crown with its futuristic looks, user-friendly interior, strong dynamics and punchy yet refined 2.2-litre diesel.
Second place goes to the Qashqai. We'd have liked a more versatile interior, but the crossover is a great family car, with strong handling, while the light steering and decent forward visibility make it ideal for town use.
The Auris does little wrong – it's safe and reassuring, with a good ride for comfortable long trips. But it doesn't stand out here, and is uninspiring.