Coupes
We see if Audi's all-new A5 can beat key rivals from BMW and Peugeot in its first UK test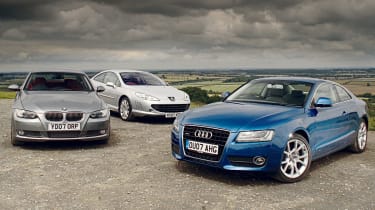 Who could forget Audi's original Quattro? At its launch in 1980, it was an instant sensation; pioneering the use of four-wheel-drive technology, it went on to change the face of rallying. But first and foremost, it was an exceptional road car – a genuine four-seater coupé with wonderful handling.
It's a market sector that Audi abandoned in 1996 after the demise of the less popular second-generation model. The firm's attention had been diverted elsewhere – into the more stylish but less practical TT, which was first seen as a concept in 1995. This change of tack allowed BMW to reap what its rival had sown and, ever since, its 3-Series Coupé has dominated this highly lucrative class.
Audi believes it now has the car to tempt buyers back. The A5 is built on the new Modular Longitudinal Platform (MLP) that will underpin the next A4, has the same rear-biased quattro 4WD set-up as the RS4 super-saloon and comes with several new engines, including the uprated 3.0 TDI we test here.
Meanwhile, the latest two-door 3-Series was commended in the coupé class of Auto Express's New Car Honours 2007. Launched last autumn, the model is available with a choice of eight engines, including this powerful 3.0-litre twin-turbo diesel.
But we've lined up another car for this test – and it might take a few people by surprise. We're not expecting Peugeot's 407 Coupé to match the Germans' status, quality, pace or handling. Yet we do anticipate it will give them a hard time in terms of refinement, comfort, equipment and running costs.
So the A5 faces a really tough task if it's to follow the Quattro and claim class honours.
Verdict
This is a very close test to call. What it boils down to is this: if you value style and a sense of occasion above handling and power, go for the Audi A5; if it's vice versa, the BMW 335d Coupé should be top of your shopping list.
Ideally, we would like to place them both equal first, but if you push us, we'd come down on the side of the BMW. Its incredible engine and superb handling, along with its decent practicality, compensate for the fact it has a much firmer ride and more engine noise intrusion than both its rivals.
Audi will be disappointed to learn that, despite its new platform, the A5 still doesn't have a dynamic edge over the BMW. Yet the brand's return to this market is still a success, and the new coupé has much to recommend it.
While it's a great cruiser, and can be proud of its performance in this test, the 407 brings up the rear. It doesn't have the same class or all-round ability.