Volvo V70 vs rivals
Can Volvo hit its estate rivals into the rough with the new V70? We see how the Swedish star fares against the BMW 5-series, Audi A6 and Mercedes E-class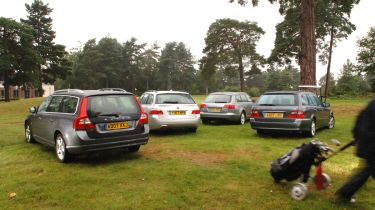 The world of golf is booming, with more Brits than ever teeing up. And for many, it's more than a sport – it's a lifestyle.
As such it needs a suitable car to go with it. With as much class as an exclusive golf club and the space to accommodate all your gear (plus tackle family duties), the large estate is the ideal choice, thanks to its combination of practicality and luxury.
Volvo has been famed for its versatile estates ever since the PV445 arrived in 1953. And it continues to dominate the class, so the arrival of an all-new V70 is big news. On sale this month, it comes in SE, SE Sport and SE Lux trim, with three petrol engines and two diesels.
But there's also a trio of German rivals to consider at a similar price level. The BMW 5-Series is strong in Touring form, the stylish Audi A6 Avant shouldn't be overlooked and Mercedes' E-Class has a massive load bay.
So which estate makes the cut as a family-friendly – and golf club class – champion?
Verdict
Volvo estates always used to be the last word in versatility, but the Germans have caught up. The new V70 is excellent value, well equipped and the boot is packed with useful features. But the driving experience falls short, and the engine is comparatively unrefined. As a result, it comes third, marginally ahead of the stylish but less practical Audi A6 Avant.
The Mercedes E-Class finishes second. Despite having the biggest boot, a top-quality cabin, excellent refinement and great attention to detail throughout, it's expensive to buy and run. Provided you can cope with slightly less boot space, our winner is the BMW 5-Series. Not only does it have a well thought out load bay, it has the cleanest and most efficient engine, is the best car to drive and can cope with anything that family life can throw at it. And it swallows golf clubs with ease, too.