207 SW Outdoor vs Roomster Scout
Peugeot has given its 207 SW a rugged new look. But is the outdoor model a tempting proposition? We find out as it goes head-to-head with Skoda's Roomster Scout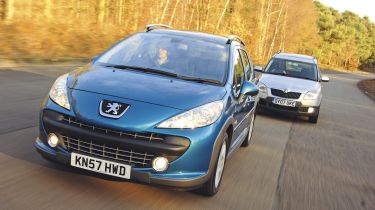 If you want to make the most of a small estate car, you need to think carefully about how you load it. And now Peugeot dealers are having to plan in detail how they pack vehicles into their showrooms, as yet another version of the 207 has arrived.
Joining the existing three and five-door hatchback, folding hard-top CC and SW estate models is a new variation on the supermini theme: the SW Outdoor.
With an eye to exploiting as many niches in the market as it possibly can, Peugeot has raised the 207 SW's suspension and fitted an off-road-style bodykit. Yet while ground clearance has been improved, the Outdoor doesn't feature four-wheel drive. The real point of this model is to provide a little more choice and arguably some fun for small estate car buyers. Three different versions are available: a 1.6-litre petrol, a 90bhp 1.6-litre diesel and the 110bhp 1.6-litre oil-burner we try here, which costs £14,710.
There are very few direct rivals to the newcomer, but the £14,070 Skoda Roomster Scout 1.9 TDI fits the bill perfectly. While Peugeot has based its off-road-inspired runabout on the 207 SW estate, Skoda has turned to its supermini-MPV for its chunky compact carrier.
As with the Outdoor, the Scout is front-wheel drive, but promises to provide the perfect transport solution for a growing family. So which model truly takes everything life can throw at it?
Verdict
While raising the suspension on these cars improves their ground clearance, in truth it's a styling exercise rather than a concerted attempt to add more versatility.
But both small estates provide safe, generously equipped and spacious transport for young, growing families. The Peugeot's boot is impressive, as is its superior fuel economy, lower running costs and 1.6-litre HDi engine. Yet the patchy build quality is a real turn-off, and when children grow into tall teenagers, the 207 doesn't have the space to accommodate them.
While it's not perfect, the cheaper Roomster Scout takes victory. The engine could be quieter and more economical, but there's no faulting the Skoda's excellent build quality. It just feels capable of soaking up more abuse than the Peugeot, thanks to its hard-wearing trim and robust fixtures and fittings.
Best of all, though, the Roomster lives up to its name. And it's not only spacious, but flexible, too – crucial when you're cramming in every last bit of family clutter. It's well conceived and executed, and a fine multi-purpose vehicle.