Fiesta v Clio v Corsa
A racy upgrade promises to transform Ford's flagship performance supermini. but does it deliver? we find out as the new ST185 meets its Renault and Vauxhall rivals...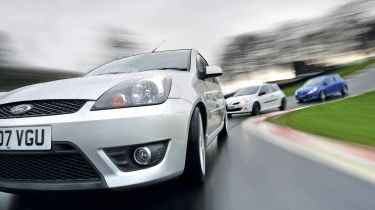 FORD has always been famous for transforming its mainstream models into great performance cars. Lotus Cortina, Escort Mexico, Sierra Cosworth or Focus RS – it doesn't matter which decade you choose, there is a car wearing the blue oval that's become a classic.
And now, the firm is offering a series of factory-approved upgrades to the Fiesta ST. This was always a fine-handling hot hatch, but it lacked the dynamic edge of some rivals. Ford claims the changes make it one of the class's most driver focused and hardcore models.
You can increase power to 163bhp for £1,435, but the car we try takes it a step further. For £1,838 you get 182bhp, while another £605 brings reworked suspension – and the end result is the Fiesta ST185. Ordered in kit form, the upgrades can be fitted to a new ST or any of the 14,000 cars already sold here.
But Ford isn't the only manufacturer to sell a focused hot hatch – the new Renaultsport Clio 197 Cup does away with interior luxuries and has stiffer suspension. And while the Vauxhall Corsa VXR isn't as stripped to the bone as its rivals, with its turbo engine and aggressive styling, it's sure to be a contender.
To find out which of these cars is the best handling and most fun, we headed to Britain's narrowest, twistiest and most challenging circuit: Cadwell Park in Lincolnshire.
Verdict
FORD has done it again. The ST185 is another example of a standard car being transformed into a performance classic. The £605 suspension kit turns it into one of the best-handling hot hatches money can buy, while the £1,838 engine upgrade gives it the performance it has been crying out for.
This is the purest performance Ford since the Racing Puma – although it's not cheap and will only appeal to real enthusiasts. It's a well engineered thoroughbred, but it comes second to the Clio Cup, which offers an equally enthralling experience at a lower price. While it doesn't have the steering feel or racy exhaust note of the Ford, the Renault is an absolute belter.
The Corsa is third: harsh for a car with the most performance and best cabin. But while it's great on the road, in this test we wanted to track down the most focused hot hatch, and the VXR isn't as sharp as its race-inspired rivals.