Used car test: Dacia Sandero vs Ford Focus
New budget brand Dacia is set to hit the UK aiming to steal second-hand sales with its Sandero. We see how it shapes up against a used Ford Focus.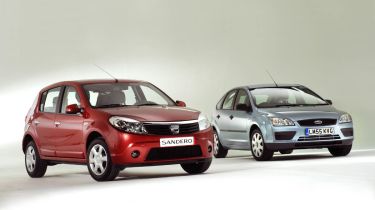 There's nothing unusual about a £7,000 new car. After all, you can find any number of tiny city models at this price. But try finding one that will swallow a family and their luggage!
The new Dacia Sandero will do exactly that, and all for the price of a second-hand Ford Focus. When it goes on sale next year, the entry-level 1.4-litre petrol model will start at around £6,500, while the flagship 1.6 model with air-con won't break the £8,500 barrier.
The five-door Dacia – pronounced 'Da-cha' rather than 'Day-sia' – will face tough competition, though, and its chief rivals will be in the used market. With that in mind, we lined the newcomer up against a second-hand Focus to see exactly what you get for your money. Can it make an impact?
Renault certainly hopes so, because it owns the Romanian brand – the Sandero will even wear the French company's badge in some markets.
Buyers here have been unable to buy the first Dacia launched under Renault ownership, the Logan, and we weren't going to get the Sandero, either.
But bosses discovered a healthy appetite for the budget model in western Europe, as well as the emerging markets the car is aimed at. In Germany, more than 17,000 were sold last year. So the Sandero is set to be offered at a third of Renault's UK dealerships.
What can you expect? Well, Dacia has come a long way from the days of the Duster, a dreadful 4x4 that made a brief appearance here in the Eighties.
Anonymous
While the Sandero looks fairly anonymous, it's far from unattractive. In fact, the first thing you notice is how high it rides. That's no bad thing, because the ground clearance needed to traverse rutted tracks in Morocco – a big market – should be similarly useful when tackling urban speed humps.
In size, the Sandero is halfway between a modern supermini and Ford Focus, but rear space is ample for two adults, and there's a trio of three-point belts. The boot measures 320 litres, which extends to 1,200 litres with the seats down.
A badge on the boot proclaims 'Sandero, by Renault', and buyers will get a choice of four engines – 1.4 and 1.6-litre petrols and a 1.5-litre diesel in two power outputs. The link with Renault should work in Dacia's favour, especially since the firm's 330 service centres can work on it. Jeff Paterson is chief car editor at Glass's Guide. He said: "The connection will help Dacia's image, as it may not be seen as a brand at the bottom of the pile."
And unlike when buying a used Focus or Vauxhall Astra, you won't need to brush up on your haggling skills, because Renault won't be discounting – a major plus for nervous buyers.
Quality
On first inspection, quality seems to be solid. For example, the circular air vents move fluidly. The cost-cutting is more visible in the choice of plastics and the aftermarket stereo, both of which are overshadowed by the feel of the dash in the Focus.
For the estimated £7,200 it will cost to buy a mid-spec Sandero 1.4, we found a 55-plate Focus 1.6 LX with low mileage at Dagenham Motors in Alperton, Middlesex.
It was prepared to the high standards of the Ford Direct used scheme, although there was no hiding the fact this Focus had already been owned by someone else.
Surprisingly, the Dacia's residuals could be similar to the Ford's, as a Focus 1.4 loses 70 per cent of its value after three years and 60,000 miles.
Paterson continued: "Used car buyers would always prefer a new car. I'd say the market is quite hungry for a model like the Sandero. In the current economic climate, you'll find a number of buyers looking for a cheap alternative."
However, because that gloomy climate is depressing the market, discounts on new cars are plentiful, as David Shelton, MD of supermarket chain Motorpoint, knows. He said: "There are lots of deals around where you don't pay full list price. For example, we're offering a Renault Mégane 1.6 Dynamique for £9,000."
He also points to a year-old Vauxhall Astra 1.4 Life selling for £7,000: "For a car from Eastern Europe with no track record, the Dacia probably needs to be a grand cheaper still."
Yet according to Paterson, there's a big difference between cheap and value for money. We'll know more after our first drive, but our initial opinion is that the Sandero falls firmly into the latter category. And that can only be good news for buyers!
Verdict