Nissan GT-R vs rivals
At last, Nissan's reborn GT-R has landed on British shores. We put it up against key rivals from Jaguar and Audi to see just how good it is.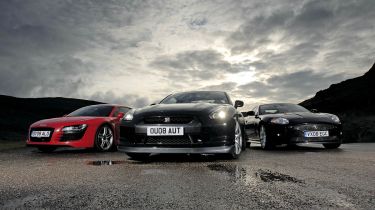 BRACE yourselves – an onslaught of new supercars is coming. Despite rising running costs, performance models are the talk of the industry – and Nissan's is the most eagerly anticipated of the lot.
It's been seven years since we caught a glimpse of the GT-R concept, and the eyes of the world are now on the roadgoing model. During development at Germany's Nürburgring circuit, the firm targeted supercars from Porsche, Jaguar, Audi and even Ferrari – so you'd expect the newcomer to be very expensive. Yet the 193mph GT-R starts at £52,900 – nearly half as much as some rivals.
So is it really a giant killer? To find out, we've brought it together with a real British bruiser. The XKR-S is Jaguar's fastest production model with the exception of the XJ220, and offers similar pace to the GT-R in a more laid back grand touring package. The question is whether it can justify its £79,995 asking price. Making up our trio is a model that has already achieved Nissan's aim: the R8 has managed to launch mainstream marque Audi into the supercar elite. But which is the biggest thriller in the UK?
Verdict
ALL three models here offer something very different. The XKR-S is a grand tourer with a sporting edge, the R8 is an ultra-desirable supercar and the GT-R focuses on providing scorching point-to-point pace.
Of our trio, the only model that struggled to make a case for itself was the Jaguar. The enhancements it offers over the standard XKR don't feel worthy of a £9,000 premium. Especially when the firm also sells a Dynamics pack for the standard XKR that provides nearly all of the S's extras for £2,500. Jaguar is putting a high price on exclusivity.
Choosing between the R8 and GT-R was more difficult. The Audi oozes style from every shutline, and delivers a scintillating driving experience to match. In the end, though, it's consigned to second place – because the Nissan is even more thrilling and so much cheaper to buy.
The GT-R has been well worth the wait. Delivering this level of performance and handling talent at this price is an amazing achievement for the Japanese manufacturer.