Used car test: Renault Megane RS vs Leon Cupra
Dare to be different with a Renault Mégane RS or SEAT Leon Cupra R225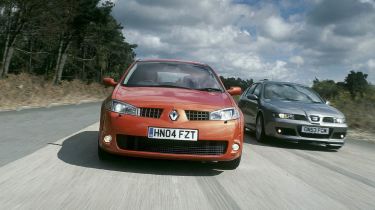 There's no shortage of hot hatches on the used market – and everyone has a favourite. Whether it's the Volkswagen Golf GTI, Peugeot 205 GTi or Honda Civic Type R, a flick through the classifieds of any trade paper or website will throw up loads of popular pocket-rockets.
However, there's no need to follow the herd. If you search hard enough, there are some unique gems that offer great value for money and brilliant road manners. Take the Renaultsport Mégane RS and SEAT Leon Cupra R225. Both are a real hoot to drive and can be found for around a third of their value when new. So what better way to stand out from the hot hatch crowd and have fun?
The Mégane and Leon each have turbocharged engines rated in excess of 220bhp, and will whisk you from 0-60mph in less than seven seconds. There's little between them price-wise, too.
The Leon R225 starts at around £6,750 for early 2003 models and rises to £12,000. Renaultsport Méganes typically range from £7,000 to £10,000-£11,000 for last-of-the-line, low-mileage 06-plate examples. Both cars offer a reasonable amount of kit for your cash: ABS, traction control, airbags, CD player, electric windows and mirrors are all standard.
When it comes to options the Leon falls down, though. Leather trim, cruise control, electric sunroof and xenon headlights are not available on the SEAT, but they are all on offer for the Mégane. This makes kitted-out examples of the latter even more desirable.
If you're an attention seeker, the Renault is definitely the one for you. It's an imposing machine with a wide grille, trademark bulky rump and bulbous arches. It's practical too, and plenty of storage space and luxuries make for a comfortable long journey. However, the engine is too refined for a raucous hot hatch.
It's suffered some faults, too, so be sure to check for dodgy shock absorbers and door locks plus electrical problems such as failing automatic lights and windscreen wipers.
The Leon looks more subtle than the Mégane, but it makes up for this behind the wheel. Its turbo is much more eager to kick in and the driving position is superb. It is certainly the faster car – it's a shade quicker from 0-60mph and will carry on up to 150mph. Although it lacks the Renault's flair, it is a great compromise between practicality and performance. Points to watch are a dodgy gearbox synchromesh and parking dents – the Leon has poor rear visibility.
Remember though: if a car is less than three years old and has fewer than 60,000 miles on the clock, it will still have warranty protection and problems should be simple to sort out.