New Cherokee vs rivals
Jeep's new Cherokee goes up against off-road rivals from Land Rover, Nissan and Hyundai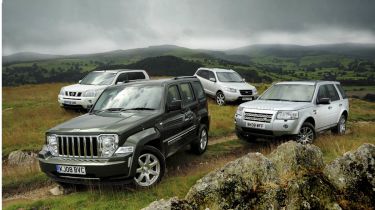 What makes a winning compact SUV? The latest small off-roaders need to be comfortable on road, good to drive and affordable if they're to scale the heights of the 4x4 landscape. Not only that, but they must also have a hefty dose of kerb appeal and reasonable running costs, too.
To find out which compact SUV has staked its flag at the summit of the off-road market, we've put a new arrival from one of the biggest names in the business up against its toughest rivals in the mud and on the tarmac. Jeep has been part of the 4x4 scenery for decades. The wartime exploits of its military model have passed into motoring folklore, and the firm's new Cherokee has just hit showrooms.
But it faces stiff competition from long-time rival Land Rover. The British brand can trace its roots back to 1948 and its Freelander 2 redefined the sector when it arrived two years ago.
However, this isn't a simple two-way contest. The capable Nissan X-Trail is an Auto Express favourite, while the Hyundai Santa Fe features a cleverly concealed third row of seats in the boot. Will either of them do enough to take victory, or will the SUV crown be disputed by the traditional Land Rover and Jeep arch-rivals?
Verdict
Each vehicle in this group has at least one strong suit, but the class leaders need to be top performers in all areas. We were looking for the 4x4 that excelled across the board, and had a wide range of talents.
So although the Jeep is the newest kid on the block, when faced with such a challenge, it crumbles. Off-road it performs well, but thanks to its slow-witted dynamics on tarmac, plus the sub-standard interior and terrible packaging, the Cherokee comes last by some distance.
Separating the other three cars is more difficult, although the Hyundai finishes in a creditable third place. It's the family choice, with its extra pair of seats and generous kit. But the road-focused suspension set-up and lethargic diesel engine leave it trailing the Nissan and Land Rover.
So which car wins? Well thanks to its class-leading cabin, prestige image and excellent dynamics – regardless of the conditions – the Freelander justifies its price tag.
The Nissan is a fine off-roader with car-like handling. But it can't quite match the overall abilities of the excellent Land Rover.