BMW 7-series vs Mercedes S-Class
It builds the ultimate driving machines, but does BMW make the ultimate luxury car? We pitch the all-new 7-Series against the Mercedes S-Class to find out.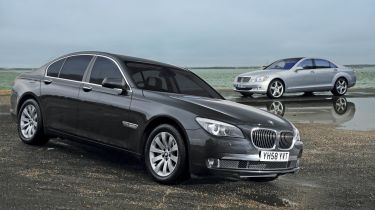 t takes a special car to claim the top spot in the luxury class. Not only does it need to be supremely comfortable to drive, but it must also offer first-class accommodation in the rear. Outside of the realms of the super-rich Rolls-Royce and Maybach arena, Mercedes' S-Class has ruled the roost since its launch in 2005.
Its blend of seamless ride and hand-crafted build quality has left rivals trailing in virtually every area. But coming second is not something BMW's engineers are used to. The new 7-Series aims to take the luxury car crown from one of the best in the business.
The controversial lines of the previous-generation model have been ironed out to leave a more conventional shape, while the fresh interior takes the BMW's comfort to an all-new level.
Add the kind of technology that wouldn't go amiss in a car driven by James Bond, and you should have a mesmerising luxury saloon.
Here we bring the two arch rivals together in an exclusive test. Our Mercedes is a long-wheelbase S320 CDI – the ultimate premium Merc. The stretched version of the diesel 7-Series won't be added to the range until next year, so for now we slip into the standard car to see if it can claim one of the most coveted class titles in the world.
Verdict
Both of our contenders have been built with one simple aim in mind: to be the best car in the world. There's no doubt that the new BMW 7-Series is a strong candidate for that accolade. It's packed with cutting-edge technology, while also being beautifully built, spacious and great to drive. It has amazingly low running costs for this sector, too.
But the bland looks are a disappointment, while its relative lack of refinement is a big oversight for such a luxurious model.
You certainly can't fault the hushed and cosseting nature of the Mercedes. There's also a real sense of occasion to the S-Class, whether you're travelling in the back or sitting behind the wheel. What's more, the Merc feels as if it has been engineered without compromise. When money is no object, the S-Class still reigns supreme.