Renault Mégane Coupé vs. Rivals
Renault is back on form – but can its attractive new Mégane Coupé beat the VW Scirocco and Volvo C30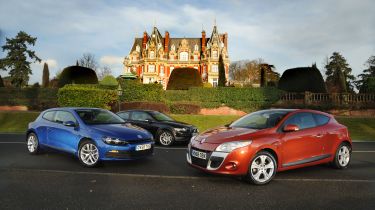 Flair, flamboyance and style – the French are known for doing thingswith a bit of panache. But is the nation's reputation deserved?
Ithas been a long time since France's talent for fashion has been evidenton a car, yet the country's design has always been successfully sentacross the Channel – the stunning Worcestershire chateau in our pictureis a fine example.
Renault is hoping to have a French fancy totempt car buyers in the shape of its new Mégane Coupé. It's the latestmodel from a firm that's undergoing a design revolution. As with itsrevitalised five-door counterpart, the newcomer aims to mix distinctivelooks with competitive prices, strong performance and sharp drivingdynamics.
However, the Mégane faces a talented welcomingcommittee. The latest entry-level version of the Volkswagen Scirocco isequally eye-catching and packs an innovative powerplant that promisesto be powerful and efficient.
Finally, the Volvo C30 is a style benchmark. The sleek Swede entered the compact coupé market in 2006, andage hasn't diminished its ability to turn heads. There's no denying theRenault certainly has its work cut out to make a mark on British soil.
Verdict
When style is of key importance for a new car, designers can afford to be a bit fickle. Every one of our cars here has features you won't tire of discovering over and over.
First to be eliminated, though, is the Volvo. Its low price and classy exterior are highlights. Buyers will also be attracted to a cabin that mixes space with premium car desirability. But its poor straight-line performance and uninspiring driving dynamics are thrown into sharp relief by its talented rivals.
So that leaves the Renault and VW to scrap it out for top spot. In three-door form, the French model is even more desirable than the five-door. It has smart looks, and its raw pace is unmatched.
Better still, it has a versatile, well built and generously equipped cabin. Only poor ride comfort and an ultimate lack of driver involvement count against it.
No such criticisms can be levelled at the Scirocco. In base trim, with its clever twin-charged engine, the VW makes an irresistible case for itself. The German model is great to look at, drive and own. Its ratings are unbeatable across the board, securing victory and a position as one of the UK's most desirable new cars.