Renault Kangoo vs Citroen Berlingo
Does Renault's new Kangoo make the most of its van-style shape? We pitch it against Citroen's budget MPV class leader to find out...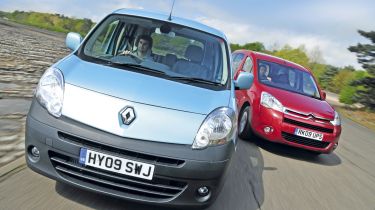 In a class that burst on to the scene only 10 years ago, the Renault Kangoo is part of the established order. The original car's all-round practicality, chunky looks and polished dynamics helped to define the budget MPV sector. Until now, it has always lived in the shadow of its bigger selling rivals, but the all-new model is aiming to take pole position and become the best cut-price people carrier around.
However, it faces stiff competition from another French model when it arrives here next month. Along with its Peugeot Partner Tepee sister car, Citroen's Berlingo Multispace is the current class leader. Its gigantic cabin, economical diesels and attractive prices make it a daunting opponent.
We pitted the £13,300 1.5-litre dCi Kangoo, in top-of-the-range Expression trim, against the £12,815 Berlingo VTR 1.6 HDi. But which one claimed class honours?
Verdict
BUDGET MPVs do exactly what their names suggest – and that means we increasingly take their enormously spacious and practical interiors and floaty ride comfort for granted. What sets the best examples apart is the fact they add a hefty dose of charm to the mix.
The all-new Kangoo meets the basic requirements, but it doesn't go far enough to topple our class favourite. While its diesel powerplant is clean and economical, it's too noisy, plus the attractive interior is let down by cheap plastics and a poor-quality finish.
In contrast, Citroen's Berlingo is quieter, feels much classier inside and provides superior refinement over long distances. At £12,815, it also represents better value for money. This budget MPV does more than it says on the tin – exceeding expectations, rather than simply meeting them.