Evora vs Cayman S
Red Blooded - Is the new Evora the finest Lotus ever? We find out by pitching it against Porsche's Cayman S on some of Britain's best roads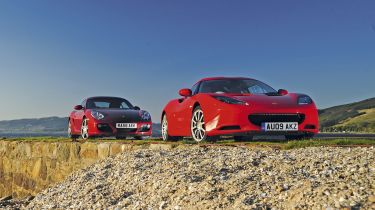 It's one of the most evocative badges in the automotive world. With a 57-year history, two decades of grand prix success and a reputation for innovative engineering and superb handling, Lotus is a globally recognised sports car brand.
Its customers are among the most loyal and patient around – but they need to be, as it's been 13 years since the last all-new model rolled out of the firm's Norfolk HQ. So, has the Evora been worth the wait?
The newcomer promises to combine the dynamic ability of its Elise stablemate with more refinement and day-to-day usability. It retains the classic sports car layout of a mid-mounted engine – a Toyota-sourced V6 – and rear-wheel drive, plus has a 2+2 seating arrangement. But a price of £49,875 means it competes with arguably the most accomplished coupé money can buy: the Porsche Cayman S.
The two-time Auto Express Performance Car of the Year has recently benefited from a raft of updates. We took the Cayman S to meet the Evora on some of the UK's finest driving roads, among the peaks and lochs of Scotland, to find out if it still rules the roost.
Verdict
The new Evora has been well worth the wait. It's a great sports car with the kind of razor-sharp handling, superb body control and communicative steering we've come to expect from Lotus.
The compliant suspension and extra refinement also mean you can realistically use it every day. Yet well equipped models cost nearly £60,000, so it's very expensive. Porsche's Cayman S is not only cheaper, but also more powerful, superbly engineered and has a more characterful engine.
While it doesn't feel as incisive as the Lotus, faultless handling means it can match the British car through corners, and then use its extra power to outperform it on the straights.
The Evora will definitely appeal if you want something special, but in the end the Porsche takes the victory. It remains the ultimate all-rounder and the better ownership prospect.
1st: Porsche Cayman S Perfectly weighted controls and virtually unbreakable traction deliver a sports car masterclass. Plus, Porsche's 3.4-litre engine is great. Not only is it cheaper and faster than the Lotus, it's desirable and superbly engineered.
2nd: Lotus Evora The Evora is a real Lotus and everything fans of the brand would expect. Its unique 2+2 seating layout hasn't compromised the styling, either. Yet at £47,500 for the cheapest two-seater version, it's simply too expensive.