Chevrolet Cruze Vs. Skoda Octavia
Can Chevrolet cross from bargain brand to big name player with its new Cruze saloon? We test it against its arch rival the Skoda Octavia to find out.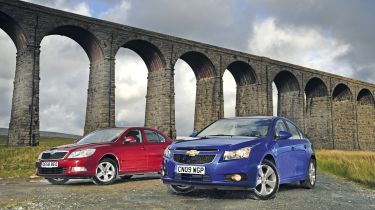 Chevrolet is aiming to bridge the gap from value brand to mainstream player – and this is how it plans to do it.
The new Cruze family saloon goes on sale this month, and mixes stylish looks with sharp dynamics at affordable prices.
But if that isn't enough to make you sit up and take notice, this will: the Cruze shares its underpinnings with the all-new Vauxhall Astra, which isn't set to reach the UK until the autumn.
The Chevy is available with a choice of two petrol engines and a pair of diesels – and to see if it can help the American marque span the divide from fringe firm to established name, we test the 1.8-litre petrol version in top-of-the-range LT trim.
Up against it is a car which, like the new Cruze, shares its underpinnings with an established family car. The Skoda Octavia is MkV VW Golf through and through, and wears an attractive price tag.
Does the 1.4-litre TSI SE uphold the Czech maker's reputation, or will the Chevy Cruze to victory?
Verdict
Arriving in the family car class with an attractive price puts you up against some talented opposition. The Octavia has already beaten value-for-money versions of some of the sector's finest. And with an impractical saloon body, the Cruze is fighting with the equivalent of one arm tied behind its back.
It's packed with standard kit, so represents real value for money. Plus, its impressive dynamics bode well for the next-generation Vauxhall Astra. In the end, though, the Skoda eases home. The more lively engine, classy interior, practical load capacity and superior long haul comfort give it the edge.
The Chevy is a smart and well equipped alternative for buyers who want something different. But Skoda has such an incredible reputation for customer service and reliability it's hard to look beyond the Octavia.