VW Caravelle Vs Hyundai i800
How many seats can you get for around £20,000? We put two new contenders in the 'more for less' stakes to the test...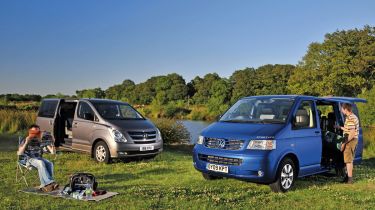 We're all going on our summer holidays… but which is the ideal camping car for you? Anyone who has packed in tents, chairs, windbreaks and the kitchen sink before heading off on a family trip will know there's no suchthing as too much luggage space.
King of the campsite since the Sixties has been Volkswagen's timeless people carrier. While the latest Caravelle is yet to reach the cult status of its predecessors, it still has the kudos to make it the vehicle of choice for your run to the sun.
But if there's one thing that lets the big VW down, it's value. If you want the ultimate in camper van luxury, you'll need the company's California model, yet its double bed and classy fittings can push the price up to a staggering £40,680!
Perhaps unsurprisingly, the VW has a sizeable rival encroaching on its pitch. Hyundai's i800 does without any camper van extras, but for those wanting a people carrier to use every day that can double as a holiday hold-all, the Korean model's £19,830 price offers huge value.
To close the gap between the Caravelle and its Hyundai challenger, VW has launched a new, more accessible version. The Startline is priced from £23,995. That's still a step up from the eight-seat i800, so we packed our bags and headed to a campsite to see if the Hyundai is set to become the family favourite for the summer of 2009.
Verdict
Neither of our super-sized family cars is perfect. The VW is sluggish and pricey, while the Hyundai doesn't have that last ounce of design and engineering quality to fulfil its brief.
In the end, what wins out is the i800's value for money. Yes, it's relatively thirsty and, yes, it's disappointing that the rear seats don't fold. But when you look at it as a low-cost, high-practicality model, the Hyundai is a tempting proposition. It comes incredibly well equipped and offers superb cabin quality throughout.
While the Caravelle never loses its charm, it struggles to justify its price. The Startline makes ownership of VW's people carrier more accessible than ever, but it's shamed by the Hyundai. Stronger residuals compensate – until you see the options list. Although it's still the camper's champ, the Caravelle is a model for the brand-conscious, not the bargain-hunter.