Audi TT RS Vs. Porsche Cayman S
Audi has turned up the temperature in the performance class with the first-ever TT to wear the hallowed RS badge. Can it beat Porsche's Cayman S?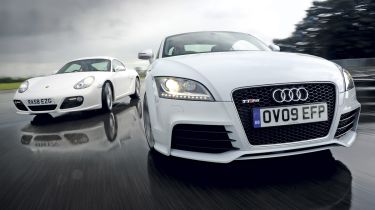 Only the most focused Audis get to wear the hallowed RS badge, and the company has finally bestowed its greatest honour on the TT. That takes the performance coupé into uncharted territory – and with four-wheel drive and a turbocharged five-cylinder engine, it shares similarities with the legendary rally-bred Quattro supercar.
The all-new 2.5-litre powerplant produces 335bhp and a massive 450Nm of torque. Couple this with the TT's impeccable quality and style, and the newcomer is a tantalising prospect for fast Audi fans.
But comparisons with the Quattro are meaningless when you consider the RS's £42,985 price tag – that puts it in direct competition with arguably the best sports car in the world. The Porsche Cayman S has recently been given a mid-life refresh, and with its 3.4-litre direct-injection unit, it's better than ever.
Although the Porsche is more expensive than the TT RS and has 15bhp less power, it counters this with its classic mid-engined layout and a chassis famed for its brilliance.
The Cayman S reaffirmed its place at the top of the sports car pile by defeating the new Lotus Evora in our head-to-head in Issue 1,065 – so we couldn't wait to find out how it would cope when pitched against the four-wheel-drive TT RS...
Verdict
The new RS has all the traits we've come to expect from a performance Audi. Beautifully built, fast and surefooted, it's a worthy flagship for the growing TT range.
The 2.5-litre five-cylinder engine is superb, combining masses of torque with a tuneful exhaust note. Its looks strike a great balance between aggression and style, and the well crafted cabin is difficult to fault. The RS is also faster and cheaper than the Cayman S... but then the Porsche is about more than just pace.
With its mid-mounted engine, the Cayman is still one of the world's finest-handling sports cars. Precise steering, strong brakes and a rewarding chassis mean it's more agile. It's also practical and superbly engineered – but what clinches the victory is its characterful flat-six and sheer involvement. A manual version would have won by a greater margin.