Volvo V50 DRIVe SE vs VW Passat Bluemotion
Go green and cut costs with an ecoestate. We pitch the new Volvo V50 DRIVe against the established VW Passat BlueMotion.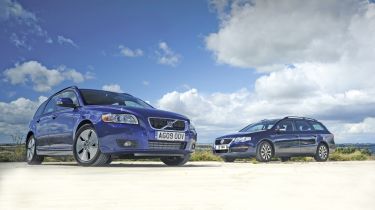 If you believe taking the green option means you're restricted to tiny city models, think again. This pair of practical new estates comes with economical diesel engines that deliver low emissions and running costs.
The Volvo V50 DRIVe is part of the Swedish firm's latest eco assault and features a range of tweaks, from optimised gearing and electronics to low-drag styling. The separate Start/Stop model adds engine killing technology and regenerative brakes to the eco-friendly mix.
This results in hybrid-rivalling CO2 emissions of only 104g/km, plus claimed fuel economy of 72.4mpg. The Volvo faces a tough opponent in the battle for green honours, though, in the shape of the Volkswagen Passat BlueMotion 2.
The German firm's green brand is one of the most widely recognised on the market, but the second generation of the low emissions Passat sees the introduction of stop-start technology for the first time.
The VW is larger and has a bigger engine and a smaller price tag, but it can't match the emissions and economy of its rival. We put the pair head-to-head to find out if VW's brawn is enough to outwit the clever Volvo.
Let the economy drive commence...
Verdict
The VW Passat is practical and stylish in equal measure. Its high-speed refinement, smooth ride comfort and attractive price all count in its favour – especially for private buyers. But does the BlueMotion 2 have strong enough green credentials to win this test? Company car drivers might argue that it doesn't.
As an eco-friendly proposition, the V50 is a convincing package and in Start/Stop guise the Swedish model is the greener choice. You can't argue with astonishing CO2 emissions of only 104g/km. They give the Volvo a big advantage in the fight for company car sales, as its tax liability is significantly lower than the VW's.
For us, though, the Passat squeaks home ahead of the Volvo due to its lower price, superior dynamics and spacious interior – but, given that it's such a close call, we could understand anyone who went for the new V50.