Lexus RX 450-h SE-L vs BMW X5 30d SE
Hybrid power is the only option on Lexus' new RX SUV. Does this help it top the class – or hold it back? We find out as it meets BMW's diesel X5.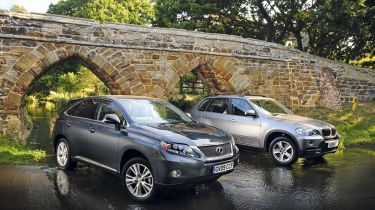 Lexus is hoping to make a splash with its new RX 450h! The SUV blends off-road looks with the latest generation of the firm's petrol-electric technology to deliver family car fuel economy of 44.8mpg on the official combine cycle.
The luxury brand is committed to hybrids and, in keeping with its stated aim of providing a range comprised solely of hi-tech battery-assisted vehicles, the new RX is available only with petrol-electric power.
Is it good enough to rival the ultimate on-road SUV? If you're planning to stick to the highway, the dynamic BMW X5 takes some beating. It doesn't come with the option of a hybrid drivetrain, yet buyers do get a choice of excellent diesel engines. And they don't come much better than the firm's 3.0-litre unit – even though its claimed combined fuel return is only 34.4mpg.
Hybrids traditionally struggle to match their claimed figures, so will the Lexus win at the pumps? And even if it does, is the new RX a better buy than the X5? We got our feet wet to find out...
Verdict
These two contenders show how seriously green issues are taken by manufacturers in the premium SUV sector.
But which car more successfully mixes eco-friendly credentials with rugged versatility and luxury?
There's no denying the X5 still rules the roost for image and driving dynamics. Plus, the big boot and seven-seat potential make it a practical proposition. Yet the latest Lexus is a huge improvement over its predecessor.
Its refined hybrid drivetrain delivers incredibly low CO2 emissions – and in turn competitive company car tax costs – plus decent economy.
Our range-topping RX 450h SE-L undercuts the BMW on running costs by some distance – and if you go for the £41,600 entry-level SE, the savings are even greater, without any real compromise on standard equipment. So, the hi-tech Lexus hybrid takes a deserved victory.
* 1st:Lexus RX 450h SE-L
With its refinement, sophistication and impressive emissions, the Lexus is a very convincing proposition. And while it's not quite as sharp to drive as the BMW, that shouldn't detract from the RX's broad appeal.
* 2nd: BMW X5 xDRIVE 30d
Make no mistake – the X5 is still a very desirable machine. It's beautifully built, good to drive and retains its rock-solid image. In this test, though, it fails to meet the green challenge provided by its new petrol-electric rival.