Modern greats vs classics
In a road test special, we bring modern greats from Jag, Porsche and VW head-to-head with their classic counterparts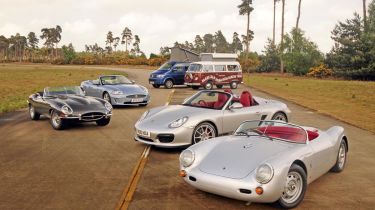 Retro models are nothing new; think MINI, Fiat 500 and VW Beetle. But some reborn machines don't need to make their references to the past quite so obvious.
Here we take a look at three brand new cars and their famous ancestors. And if you fall for the old-world charms of our historic machines, there's good news – as all of them are still available to buy now. Confused? Don't be...
The car that inspired this test is the new Porsche Boxster Spyder, and going up against it here is a replica 550 Spyder from Brazilian specialist Chamonix.
Our second pairing sees the latest Jaguar XK Convertible, complete with 5.0-litre V8 power, line up alongside a remanufactured Eagle E-Type that costs from £89,000. In the final duo, a revised California camper meets a new version of VW's famed Type 2 bus. The latter is still built in Brazil, only with a water-cooled 1.4-litre engine in place of the original's air-cooled flat-four. Can you teach an old dog new tricks? We try them all to find out.
[[{"type":"media","view_mode":"content_narrow","fid":"68543","attributes":{"alt":"","class":"media-image"}}]]