4x4 Mega-test
Big SUVs are beginning to win buyers' affections again... as can be seen by four new models on the market. So which is our star?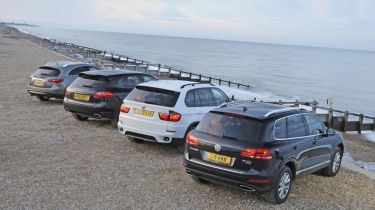 The tide looks to be turning for large SUVs. Environmental pressures and the financial crisis have blunted the popularity of these models, but four new sporty diesel-engined 4x4s have just landed on our shores. This latest wave of cleaner and more efficient cars aims to silence the critics, and return to the top of British buyers' wishlists.
Leading the way are the new Porsche Cayenne and Volkswagen Touareg. They share the same V6 diesel engine and are larger, yet cleaner and more economical, than the cars they replace. However, one of their main rivals, the BMW X5, has followed a similar approach. The revised model benefits from a host of improvements, and in 30d trim matches the sub-200g/km emissions of its new opponents.
There is another option for buyers who want to make a splash, though – in the eye-catching shape of the Infiniti FX. It has the looks to turn heads and now, for the first time, is available with diesel power. Do the attributes which make its petrol stablemates such a hit on the other side of the Atlantic transfer to the UK? We find out as we put all four to the test...
Verdict
Three of the cars in this test 
are closely matched, delivering similar performance, economy and emissions. Unfortunately, 
the Infiniti doesn't only stand 
out with its bold styling. The car's engine, cabin, handling and economy are all comprehensively outclassed in this company, so 
it comes last by some distance.
Next up is the Volkswagen. While the Touareg is great value for money, its interior simply doesn't feel special enough, 
and the handling lacks the 
sparkle it needs in this class.
Choosing between first and second places is much tougher. The BMW has a great engine, smooth auto box and polished dynamics. It's also very efficient and has the most practical cabin. However, the firm ride takes the edge off the X5's long-distance comfort, while the ergonomically sound and well built cabin doesn't have the Cayenne's wow factor.
Porsche has combined a top-notch interior with agile handling, a superb diesel and slick gearbox, and its desirable newcomer strikes the best balance between sporty dynamics and refined luxury. It edges out the BMW to win.