BMW 6 Series Convertible vs Jaguar XK
We Brits love our drop-tops, and BMW's new 6-Series Convertible looks set to be one of the summer's hottest buys. But can it beat the Jaguar XK?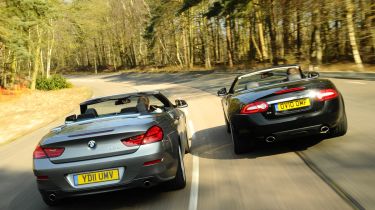 A V8 roaring in your ears, the sun on your face and the wind in your hair... it's motoring nirvana! But the trouble is, it carries an ever-increasing price. The Chancellor's miserly reduction in fuel tax is scant consolation when you're driving a car for which 20mpg economy is an achievement!
Yet there could be a way to enjoy top-class cabrio thrills and style without the big bills. BMW's new 6 Series Convertible places as much emphasis on its advanced EfficientDynamics technology as it does on performance. And when compared with the flagship V8 650i, the 640i appears to offer a balance of pace, space and price which is better suited to driving in 2011.
To see if it does, we've brought the new entry-level 6-Series to meet a long-standing class favourite. The V8-engined Jaguar XK is understudy to the mighty XKR, but with 380bhp on tap, it's far from underpowered.
At £69,950, it sits between the £65,695 640i SE and £73,430 650i SE. So can the Brit brute justify its running costs with a better all-round package? Or has it met its match in the clever six-cylinder BMW?
Verdict
We didn't expect to make such a head vs heart decision when picking a winner here. On paper, it's difficult to see how the BMW could lose, given its sheer mechanical brilliance. And we are pleased to report that it doesn't disappoint in the real world – it can turn its hand to driving at high speeds on a track or ambling along in traffic, and does both with ease. Yet it was the more raucous V8 Jag that left us fighting for the keys. In spite of its faults, the XK still has immense character and charm, with an engine that makes your heart rate rise nearly as quickly as the fuel gauge falls. However, jump back into the more polished 6-Series, and the Brit starts to feel a bit one-dimensional. Yes, its performance is immense, but the Jag simply isn't as practical, advanced or accurate as its less expensive opponent. Ultimately, it hands victory to the BMW.