Audi A1 vs Citroen DS3
Diesel version of Audi's massive-selling new A1 meets the class-leading Citroen DS3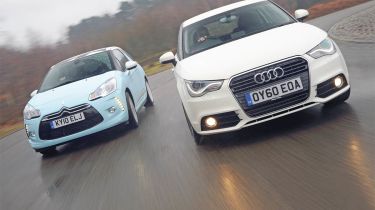 Makers of premium cars no longer have to think big. The Audi A1 is hot news at the moment, and after the firm's entry-level model racked up nearly 1,500 sales in January alone, 2011 has got off to a swinging start.
Competition in this growing sector is tough, though, and the A1 has already tasted road test defeat in petrol guise at the hands of the Citroen DS3 (Issue 1,140). In a closely fought battle, the French model came out on top – but can it repeat the trick with a diesel engine under its bonnet?
The A1 is powered by the ubiquitous VW Group 1.6 TDI and fitted with stop-start. It emits only 99g/km of CO2 yet produces 250Nm of torque. Citroen also knows a thing or two about diesels, and the 1.6 HDi is equally established – with 110bhp and 270Nm of torque, it's more powerful than the 104bhp Audi unit and benefits from six speeds. However, without stop-start technology, it isn't as efficient as its German rival.
So will the A1's image, quality and design take top honours here, or will the Citroen DS3 prove once again that it has what it takes to rule the premium small car sector?
Verdict
What do you value in a premium supermini? That's the question you need to ask yourself if you're choosing between these two cars. If you want dynamic thrills, the Citroen is the obvious choice. The lively responses, entertaining handling and more smooth and punchy diesel engine make it more engaging to drive. Its fun character extends to the options list, which is full of cheeky additions, while its interior performs the nifty trick of combining fashionable looks with superior space. Prefer a more mature approach? The refined A1 is the perfect companion. It offers a class-leading interior and big-car feel, and is efficient, good to drive and promises low running costs. On the right road, owners will sometimes wish they had plumped for the Citroen instead, but that's not enough to overcome the Audi's solid financial advantage. It takes a narrow victory.