Used Audi A1 (Mk1, 2010-2018) review
The Audi A1 has been a wildly successful premium supermini for over a decade, and continues to sell well in its latest generation. Here's how to buy the original
Verdict
The Audi A1 was produced to take on the might of the MINI, a car that sold in huge numbers thanks to its retro premium image, scope for customisation and fun-focused driving experience. Starting life as a concept in 2007, the production car arrived in 2010 with Volkswagen Polo underpinnings and styling that distilled the sharp, sophisticated notes of the brand's larger models into a deeply desirable yet smaller package. 
That desirability has barely faded over the ensuing decade or so, which in turn means the A1 is a used car that holds its value well. Plenty of good examples have survived well thanks to a combination of sturdy build quality and big numbers sold, and there's lots of variety too. If you want a small car with big-car character and a premium badge, it's hard to do much better – but a MINI will always be more fun to drive.
Which one should I buy?
Best for fuel economy: Audi A1 1.6 TDI
Best for low costs: Audi A1 1.0 TFSI
Best for performance: Audi S1 2.0 TFSI quattro
After it arrived in 2010, the Audi A1 quickly built up an impressive trophy cabinet with awards from Auto Express and our sister site Carbuyer. It's easy to see why, as Audi's smallest car offered the same build quality, excellent ergonomics and hi-tech features as the brand's bigger models.
Some manufacturers build their smaller cars to lower standards to save cash, but not Audi. So when you buy an Audi A1, you do so safe in the knowledge that it's made with the same attention to detail as an A4 or Q5. To an extent, Audi was forced to do this by the fact that the A1 shares so much with the equivalent Volkswagen Polo, SEAT Ibiza and Skoda Fabia superminis. As the premium option from the Volkswagen Group stable, the A1 needed to be a cut above. 
The A1 is a great alternative to some of the more obvious luxury small cars out there. When we ran a 1.4 TFSI on our fleet when it was new, it proved very popular thanks to its perky engine, high-quality cabin, and strong comfort and refinement. 
The A1 debuted in three-door hatch guise in late 2010 with 1.2 TFSI or 1.4 TFSI petrol engines, or a 1.6 TDI diesel. All had manual gearboxes, and the 1.4 initially delivered 120bhp, but soon after a 182bhp edition with an S tronic dual-clutch auto arrived.
The 1.6 TDI claimed CO2 emissions of 105g/km at launch; in summer 2011, this was cut to 99g/km. Audi launched the five-door Sportback in spring 2012, just before a 2.0 TDI engine. The 138bhp 1.4 TFSI Cylinder on Demand (CoD) of 2013 shut down two of its four cylinders when cruising to cut emissions.
A November 2014 facelift brought styling tweaks, extra kit and cleaner engines to the A1 range, including a 1.0-litre TFSI three-cylinder petrol unit to replace the 1.2 TFSI. From this point on, the S tronic dual-clutch gearbox was available with any engine. 
Partnership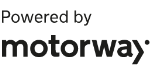 Need to sell your car?
Find your best offer from over 5,000+ dealers. It's that easy.
There were two go-faster models offered during the A1's lifespan – the rare, limited-run A1 quattro and the car it inspired, the more readily available S1. The former is set apart by its 252bhp 2.0-litre petrol engine, white-and-black paint scheme and turbine-style 18-inch alloys, along with an aggressive bodykit. Just 19 made it to the UK, so good luck finding one!
The Audi S1 arrived in 2014 with a little less power (225bhp) but in a similar package to the A1 quattro – and at a much more attainable price point.
Vicki's verdict
"This is Audi's answer to MINI, and can thank the VW Polo for its starting point. The A1 may be the baby of the German giant's gang, but it has the desirable sophisticated looks of its siblings. Behind that premium badge is a car with lots of character and, thanks to good build quality and popularity, there are plenty for you to choose from." - Vicki Butler-Henderson
What are the alternatives?
The MINI was the A1's main rival and that's still the case on the used market. The MINI has a much smaller boot, although like the Audi, there's the option of either three or five doors. 
The DS 3 is a leftfield choice that offers good levels of standard equipment. There's no five-door option but the DS gets a bigger boot and is great value for money. Bear in mind that older models will be badged as Citroen DS3. 
Alfa Romeo's MiTo is sporty and stylish, although it's not very practical and its interior has disappointing ergonomics. 
While it's cute, fun to drive and reliable, the Fiat 500 comes only as a three-door, and practicality is poor thanks to its small boot and cramped back seats.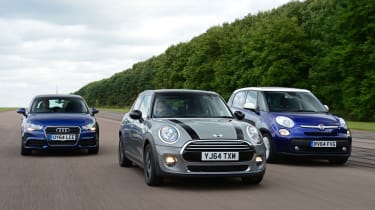 Audi A1 vs Fiat 500L vs MINI Cooper D
When MINI released the five-door version of its Hatch in 2014, we pitched it against the A1 and – perhaps slightly unfairly – the larger  Fiat 500L. The A1 suffered a defeat and finished in last place, thanks mainly to its practicality deficit. We weren't fans of the A1's outmoded 1.6-litre diesel engine. It's worth noting the A1 had not yet been facelifted at this stage. Read the full test...
Audi A1 vs MINI Cooper vs DS 3
The Citroen DS3 was rebranded as the DS 3 in 2015; we put it up against the post-facelift A1 and the then recently updated MINI Cooper. By this point the A1 was showing its age next to its rivals and it finished in last place – although we still praised its build quality and strong residuals. Read the full test...
Audi A1 vs Volkswagen Beetle
In 2012 we tested the A1 against the then-new Volkswagen Beetle – a bigger, more style-conscious car that uses Golf underpinnings. We preferred the Beetle's blend of comfort and style, but conceded that its retro looks might not be for everyone. Read the full test...
Audi A1 Sportback vs MINI Clubman vs Chrysler Ypsilon
When the five-door A1 Sportback first arrived in 2021, we placed it ahead of its key rivals, including the quirky MINI Clubman and disappointing Chrysler Ypsilon. We noted the improved rear-seat access as a good thing, as well as the relatively small premium over the three-door car. The MINI ran the Audi close, however. Read the full test...
How much will a used Audi A1 cost?
This upmarket supermini is more common than you might think, with thousands of used A1s for sale in the UK at any one time. However, you'll struggle to find any bargains: while it's easy to spend plenty on a new example, strong residuals mean used values tend to be high. But as with so many things in life, you get what you pay for. The arrival of the all-new A1 model in 2019 helped things, but not by much.
Prices
The more cynical (or less badge-conscious) buyer is likely to be better looking at an equivalent Volkswagen Polo – a very similar car in mechanical terms, but one that does without some of the Audi's luxuries. For example, on our sister site Buyacar (at time of writing), a 2015 Audi 1.6 TDI Sport with around 60,000 miles on the clock is likely to cost under £9,500; a 2015 VW Polo 1.4 TDI SEL with just over 30,000 miles comes in at £8,500. 
As for the A1 range itself, the cheapest models to buy are early Sport models with either the 1.6-litre diesel or 1.4 litre petrol engine. Our sister site Buyacar's listings start with 2015 models in this specification, with prices starting at around £9,000–10,000 for examples with 60,000–70,000 miles on the clock. Pre-facelift cars will represent better value if you don't need the added refinements.
At the opposite end of the scale, a late-model go-faster S1 Quattro with around 20,000 miles on the clock comes in at around £24,000.
You can check out the latest used prices for the Audi A1 on our sister site Buyacar or value a specific model using our valuation tool.
Economy and emissions
Low weight and frugal engines mean the Audi A1 delivers strong claimed fuel economy on the old NEDC testing cycle. Tax bills should be low too, as both the 1.6-litre diesel and 1.0-litre petrol engines emit less than 100g/km of CO2. 
That comes with a caveat for the 1.0-litre TFSI  engine, though. The claimed economy figures are impressive, and if you drive gently, you should be able to get close to them on the road. But as with so many small-capacity turbocharged petrol engines, the warbling engine note and free-revving nature can be difficult to resist – and if you get carried away with the fun driving experience, you'll soon send your overall fuel economy plummeting.
If ultimate efficiency is what you care most about, the under-stressed diesel engines are a better choice. They make most sense if you plan to cover lots of motorway miles – around 12,000 miles per year. Otherwise, it makes most sense to stick to the 1.0-litre TFSI. 
Elsewhere in the range, the powerful 1.4 is pretty impressive – especially the 148bhp 'Cylinder-on-Demand' version, which returns a claimed 58.9mpg and emits 112g/km. Even the super-quick S1 promises 40mpg with a light right foot – although discipline in this department will be difficult to maintain. 
Running costs
When the car was new, A1 owners could choose between fixed or variable servicing. The former meant a check every 9,000 miles or 12 months, while the latter allowed up to 19,000 miles and two years. It's worth checking which of these schemes your potential purchase was subject to.
Audi offers a dedicated service plan for cars aged between three and 15 years old, with the option to spread the cost over 24 months. The plan includes one oil service and one oil and inspection service; prices for all A1 models will be £499 up front, or around £21 per month (as of October 2021).
Only diesel models have a cambelt, which needs to be replaced every five years or 75,000 miles; on later cars, this stretches to 140,000 miles. It's worth noting that Audi will MoT your A1 for free for life if you opt for a cambelt change at a participating Audi Centre (as of October 2021).
A three-year warranty was supplied with the Audi A1 as standard, which covered unlimited mileage in the first two years, but only up to 60,000 miles in year three. An extended warranty to four years and 75,000 miles was also offered, or five-year/ 95,000-mile cover. Crucially, this cover can be transferred to new owners, so it's worth looking out for on later cars.
The 1.6 TDI will be the cheapest version of the A1 to insure – it sits in group 14 – while the 1.0 TFSI will work out only slightly more expensive, in group 15. The 1.4 TFSI models range from a low of group 15 to a high of group 29. The S1 sits in group 33.
What do owners think? 
Owners have criticised the A1's uncomfortable ride, practicality issues and running costs, although they praised its ease of driving. 
The Audi A1's interior feels sturdy and durable and its engines have all been tried and tested in the rest of the VW Group's range of cars over the past decade or so. We'd be surprised if you encounter any major mechanical difficulties on a well-maintained example – although the A1's track record isn't really becoming of a premium hatchback.
Reliability
The A1 rose two places to 150th in our Driver Power 2016 survey from its position in 2015 – a disappointing finish for a premium car that was still relatively new at the time. It managed two top 100 category ratings, for build quality (73rd) and performance (71st). However, a 109th-place finish for running costs, 128th for reliability and 106th for handling are poor.
The A1 finished well down the rankings in the Auto Express Driver Power 2018 satisfaction survey, finishing 53rd out of 75 cars ranked. This was below that of the Nissan Micra and Mazda 2, but above the Skoda Fabia and MINI.
How practical is it?
Buyers need to remember that the Audi A1 is a compact premium car – anyone expecting room to stretch out in the rear is likely to be disappointed. Still, it's not as cramped back there as you might imagine, and the A1 has its 3-door MINI arch rival beaten for cabin space. The five-door car isn't any roomier than the three-door, but you do get that easier access to the back seats. 
Dimensions, cabin and boot space
The Audi A1 is just under four metres long, so is a doddle to park in tight town centre parking spaces. And owners should have no concerns about scratching that pretty bodywork in supermarket car parks or multi-storeys, either, as it's also relatively narrow (at only 1,746mm wide).
Incidentally, there's no real difference between three-door and five-door versions of the A1 in terms of size. As well as identical height and width measurements, the cars have the same 2,469mm wheelbase; the five-door Sportback is just a fraction taller than the three-door (1,746m vs 1,740mm).
Up front is where you want to be in an A1 – the rear seats are pretty cramped, and space back there becomes even more tight in cars fitted with the optional sports bucket seats.The standard seats are comfortable and supportive, even on a long journey, and there's a decent amount of leg and foot room for the driver and front seat passenger. The A1 is far better in that regard than the MINI.
It's worth noting that the three-door A1 only came with two rear seatbelts as standard, whereas the Sportback was equipped with three rear seatbelts – even though it doesn't offer any more space.
A boot capacity of 270 litres doesn't exactly sound huge, but it's not bad considering the class average. Of more interest to potential A1 buyers will be the fact that if you fold the back seats flat, you get a very decent 920 litres of space when you pack the car to the roof.
The go-faster S1 has less space, though, as it sacrifices some luggage room to accommodate the quattro four-wheel-drive system's rear differential. The high-performance flagship offers 210 litres with the rear seats in place, or 860 litres when they're folded.
Equipment, technology and safety
By class standards, the Audi A1 had a pretty cutting-edge infotainment system when new. It could be specified with Audi Connect, which adds Wi-Fi hotspot connectivity and the ability to call up useful information such as the cheapest petrol stations nearby. One slightly odd touch is that the central display screen in the A1 doesn't slide electrically away as it does in the larger A3; instead you have to flip it up and down with your fingers. This seems a bit old school considering some of the other hi-tech additions the car has.
Technology options when the car was new included Audi Drive Select (which allows you to choose between Dynamic, Comfort and Efficiency driving modes), as well as keyless entry and ignition. There were also sundry driver aids such as parking, rain and light sensors. It's worth looking out for cars fitted with the optional, thumping Bose surround sound system: a considerable step up from the standard audio set-up.
It all means that, although the A1 is a small car, many examples will have been specced-up to feel much like a contemporary larger Audi. Lots of cars will have been originally sold at prices that far exceeded those of the base models. 
Safety
The A1 has a history of being up there with the safest cars in the premium supermini class, as it came with a long list of safety equipment as standard and was awarded a five-star rating in the Euro NCAP safety tests in 2010.
What's it like to drive?
As with other Audi models of the era, the A1 is easy to drive – just not especially engaging. Some may find the firm ride jarring, while others will simply prefer the more responsive driving experience offered by a MINI. Still, the A1 gets a range of good engines and is pleasant enough, just not hugely thrilling in its standard forms.
Engines and performance
Our pick of the A1's engines is the 1.0 TFSI petrol unit with 94bhp. With acceleration to 62mph taking 11.0 seconds, it's not exactly a powerhouse, but it sounds great and is happy to be revved, making it fun to drive. Also, because of the engine's light weight, models equipped with it come in at just 1,060kg, it makes the A1 feel far friskier than the performance figures suggest.
The most economical A1s are powered by the 1.6 TDI diesel, but you'll need to work out the sums to make sure you'll do the mileage to fully reap the benefits. The most powerful petrol engine (apart from the range-topping S1) is the 1.4 TFSI, which was available with either 123bhp or 148bhp – but we reckon for most, the little 1.0-litre will be a perfect fit.
At the top of the tree, the S1 is powered by a 2.0-litre four-cylinder turbo engine which is has giant-killing potential in a car of this size and weight. Add in the four-wheel-drive traction of the quattro system and you've got all the grip to go with that sparkling performance.
On the road
As it shares mechanicals with the Volkswagen Polo, the Audi A1 unsurprisingly errs on the side of sensible rather than exciting with its driving experience. Sport and S line models got lowered and stiffened suspension (although buyers could revert to the standard set-up before they took delivery at no extra cost so check which settings cars have before buying). The steering is precise and well weighted, and there's a decent amount of grip – but the A1 can't match the engaging MINI or DS 3 for ultimate driving fun.
The A1's ride is quite firm in any form, so if you decide to go for an S line model then it becomes quite uncomfortable. Unless you live somewhere with exceptionally smooth roads, we'd stick to the softer-riding SE versions – or select the standard suspension on range-topping models. Visibility is good in the Audi A1, and it's pretty easy to park, so it ticks the urban runabout boxes well.
Thanks to the low weight of its engine, the 1.0 TFSI petrol model has the best steering in the line-up, and ultimately delivers the best handling of any A1.
What should you look out for?
As can sometimes be the case with premium brands' products, the A1 is not precluded from issues. Quality overall is good, however – and the range of tried-and-tested VW Group engines is strong.
Common used Audi A1 problems
Interior
The A1's cabin has the same upmarket feel as Audi's bigger models, and it's well laid out. Space is good in the front, but rear head and legroom are tight in three-door cars and access is awkward, too. The boot holds 270 litres – more than a MINI but less than a DS 3. 
Doors
Rattles from the front doors point to the linkage for the door lock mechanism moving about. It's simple enough to fix the issue, though; all you need is a cable tie.
Mirrors
Not all A1s came as standard with heated door mirrors, much to the apparent disappointment of owners, who have set up a campaign to get them retro-fitted.
Lights
On cars equipped with xenon lights, the Perspex headlamp housing can mark through overheating. This problem can be fixed under warranty. 
Sealant
Instead of a spare wheel, there's a compressor with sealant. Depending on which options the original owner selected, there may be no room for a spare wheel in the A1. 
Recalls
Even though the A1 is over a decade old, it has only been recalled once. On February 20th, 2017, 2,622 Audi A1 models were recalled due to a manufacturing error that meant the airbag and/or seatbelt tensioner may not have triggered in an accident.
Owners were encouraged to contact their dealer for a free repair that included a replaced airbag assembly and seatbelt tensioner where required. To be on the safe side, it's worth contacting your local Audi dealer to check that a prospective purchase is not affected by this recall.