VW Beetle vs Audi A1
Looking for an economical hatch with flair? We compare diesel versions of the Volkswagen Beetle and Audi A1 to see which does it better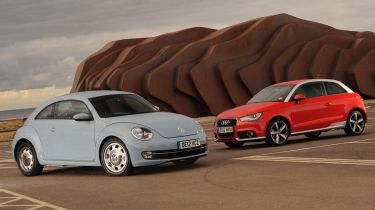 Bold architecture is capable of making everyday buildings look amazing. Equally, unique design can turn a diesel hatchback into something more than bland transport. In this test, we put two distinctive three-door hatches head-to-head. Both have recently been matched to the VW Group's tried-and-tested 2.0-litre TDI engine for the first time, and both have eye-catching styling.
But in other ways, they couldn't be any more different. The Volkswagen Beetle is now into the second generation of its modern rebirth and looks unashamedly retro, while the smaller Audi A1 is a much more modern style statement that trades on its desirable premium badge.
So, if you're after an economical, well built and stylish three-door hatchback that offers something a bit different, which is the better choice? And is there more to these cars than just stand-out design? Time to find out...
Verdict
If you want a well built, frugal and good-to-drive diesel hatchback, you're spoiled for choice. But in this test, we're looking for a car that has all of the above, while at the same time serving up an extra helping of character and style.
Which means picking a winner here is no easy task. After all, both attributes are hard to quantify. What isn't in question is that the A1 is the cheaper car to buy and own. Add its premium badge and upmarket cabin to the mix, and you'd think it'd be on for an easy win against the Beetle.
However, it's a smaller car, and, despite its sharper handling, a firm ride takes the edge off the driving experience. The VW is roomier and more comfortable. Classic looks and that strong heritage give it an edge when it comes to individuality, too. It won't suit all tastes, but it's sure to appeal to those who want to make a style statement. Blending just the right amount of retro appeal with the feel and quality of a modern VW, the latest Beetle is clever and classy.
Both cars are well suited to the 2.0-litre TDI engine and have similar performance, but the VW just edges to victory on account of its extra character. If Beetles aren't your thing, though, the 2.0-litre TDI model is the best diesel A1 yet.