MINI Cooper vs VW Beetle: modern classic head-to-head
There's never been a better time to snap up a reimagined classic, but is the MINI Cooper or VW Beetle a better buy?
It may seem bizarre now, but two cars that were designed to reignite affections for old classic cars have become classic cars themselves.
The VW Beetle and MINI borrowed their names and styling cues from cars which were immensely popular and engineering masterpieces. These reinvented versions aren't nearly so clever, but that doesn't stop them being great cars. They are also easier to live with, and – crucially – affordable for anyone who fancies a fun modern classic.
• Land Rover Defender vs Jeep Wrangler
The new Volkswagen Beetle came first, kicking off a stream of other manufacturers' retro design ideas. It was intended primarily for the American market and made its debut there in 1997; it would be a further two years before it arrived in the UK with right-hand drive, although a few LHD versions came here from official and unofficial sources.
The new Beetle might have resembled the old rear-engined car, but underneath it shared its major components with the Golf Mk4, Skoda Octavia and SEAT Leon among others. The flower-power reputation that made the Vee-dub such a big hit in the States was also clearly apparent, with a dashboard-mounted vase and optional fake gerbera flower marking this out as a car for the fashion-conscious.
Nevertheless, it was brimming with character and was a steady seller, despite being cramped, impractical and surprisingly large – all by-products of trying to make a Golf chassis fit under Beetle curves.
A year or so after the Beetle made its debut in the UK, along came the MINI from new owner BMW. Like the Beetle, the classic shape had been brought up to date and the car had the dynamics expected from a modern vehicle. But to give the safety standards and space demanded by buyers, it had also grown in size.
All new MINIs were petrol-engined at launch, using a 1.6-litre 'Tritec' unit developed with Chrysler. The entry-level MINI One develops 89bhp, the Cooper 114bhp and the supercharged Cooper S 160bhp, making the latter an absolute hoot to drive. A diesel followed in 2003, using Toyota's 1.4-litre D4-D unit, along with a Cabriolet which appeared later that year.
Despite being much larger than the original Mini, the BMW model was clearly related, with styling cues including the front and rear lights, bonnet stripes and a central speedometer all harking back to the original.
The MINI also continued the lucrative trend for vehicle personalisation. The options and accessories catalogue gave owners an almost infinite number of ways to make their MINI different to their neighbours', and it's rare to see two identical cars today.
But which is the best retro modern classic? The Beetle has bags of appeal; it's refined, cute and comfortable, as well as being both cheap and reliable. The only major problems are sill corrosion and occasional turbo failure on 1.8T models.
The first MINI is a more fragile car. It's renowned for premature gearbox failure, while the Tritec engine can suffer from head gasket and cam chain problems. That huge bonnet is susceptible to accident damage too, and is difficult and expensive to fix.
Partnership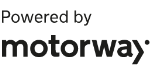 Need to sell your car?
Find your best offer from over 5,000+ dealers. It's that easy.
But that doesn't stop the MINI being our favourite of the two. Even today, it remains a rewarding driver's car, with classless appeal and immense character.
But the best thing about both is that their prices are as low as they'll ever be; you only need to spend £1,000 to own a usable example of either one. 
MINI Cooper vs VW Beetle
| | | |
| --- | --- | --- |
|   | MINI Cooper | Volkswagen Beetle |
| Years made: | 2001-06 | 1999-2009 |
| Engine: | 1,588cc 4cyl | 1,984cc 4cyl |
| Power: | 114bhp | 114bhp |
| 0-60mph: | 8.4 seconds | 10.6 seconds |
| Price range: | £500-£6,000 | £500-£10,000 |
| Rarity: | ★★☆☆☆ | ★★☆☆☆ |
| Maintenance: | ★★★★☆ | ★★★★★ |
| Investment potential:  | ★★★☆☆ | ★★★☆☆ |
Modern classics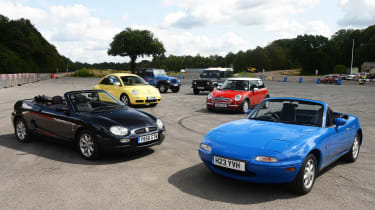 • MINI Cooper vs Volkswagen Beetle• MGF vs Mazda MX-5• Land Rover Defender vs Jeep Wrangler• Best British classic cars you can afford• Best Italian classic cars you can afford• Best French classic cars you can afford• Best German classic cars you can afford• Best Japanese classic cars you can afford• What the Auto Express team drives