MGF vs Mazda MX-5: modern classic head-to-head
Top-down motoring thrills are guaranteed with the MGF and Mazda MX-5, but which is the better modern classic?
Despite the changeable British weather, we love nothing more than a two-seat sports car with a roof that can be folded away the moment the sun comes out.
MG kick-started our love affair with roadsters and cabriolets with the very first wooden-bodied, pre-war sports cars that defined the brand. But changes in safety legislation, coupled to a lack of investment, led to the demise of MG sports cars in 1981, although the name lived on through 'sporty' variants of the Austin Metro, Maestro and Montego hatchbacks and saloon.
• MINI Cooper vs Volkswagen Beetle
The return of MG in 1995 was big news, then, with the company once again creating a back-to-basics sports car, this time with a mid-engined, rear-drive layout. It was developed on a ridiculously tight budget, and many of the components came from Rover's parts bin. Underneath it used two Metro front subframes and a new take on its Hydragas suspension, while other Metro parts included the door mirrors, heater vents, column stalks and wiper motor.
The engine was Rover's small-capacity, high-output K-Series unit, but bored out to 1.8 litres, while a 'VVC' version with variable valve timing was also an option.
Despite being developed on a piecemeal budget, the MGF was a huge hit, largely down to its looks. It was styled by Gerry McGovern, now head of Land Rover design. Another reason for its success was the Mazda MX-5, which went on sale in 1989 and was responsible for the sudden rejuvenation of the UK's roadster market.
More reviews
In-depth reviews
Road tests
Developed very much in the mould of the original Lotus Elan, the MX-5 was a traditional front-engined, rear-wheel-drive roadster with retro styling and an entertaining chassis. Blessed with a wonderful gearshift and delightfully weighted steering, it was a sports car in its purest form.
• Best sports cars on sale right now
Buyers went crazy for the reborn basic two-seater, and other manufacturers jumped on the bandwagon. By the end of the nineties, BMW, Toyota, Fiat, and Audi were offering two-door roadsters in their line-ups, but it was the MG and Mazda that were the best-sellers.
Despite their obvious similarities, they're very different cars to drive. The Mazda is arguably the most entertaining, but it's the MG that has the better grip, thanks to its central weight distribution. The MX-5 has a nicer driving position, steering and transmission, but the MGF is more practical and has a far better ride.
While both sold like hot cakes when new, each blotted its copybook later in life. The MG has a well documented tendency for head gasket failure, earning itself the nickname 'HGF' in the motor trade. The Mazda, meanwhile, suffers from corrosion, which sets in at the back of the sills and eats away at the rear chassis legs and floors.
Earlier on, the Mazda was always the recommended used choice, but today things are different. Most surviving MGFs have had their head gaskets replaced and even if they haven't, replacement is a £500-£600 job. Welding up a rotten MX-5 is a much more involved and expensive process, even if the engines do go on forever.
The MG is more prevalent in the small ads and there are more decent, usable cars to choose from, so as a result it's cheaper to buy. You can still get a viable car for less than £1,000 if you buy carefully and check for that all-important head gasket swap. That said, the very best examples have a different place in the market; you'll have to pay between £4-£5k for a really good one.
MX-5s also start below £1,000, but you're unlikely to get anything other than a restoration project for that. Unless you do want one to do up, it makes a lot more sense to pay twice that for a solid one – but shop around and check any purchase very carefully for rust hidden by filler. As with the MG, the very best examples are £5k upwards – but prices are on the up, so both look like sound investments.
MGF vs Mazda MX-5
| | | |
| --- | --- | --- |
| | MGF | Mazda MX-5 |
| Years made: | 1995-2001 | 1989-98 |
| Engine: | 1,796cc 4cyl | 1,598cc 4cyl |
| Power: | 118bhp | 113bhp |
| 0-60mph: | 8.7 seconds | 8.5 seconds |
| Price range: | £200-£7,000 | £300-£10,000 |
| Rarity: | ★★☆☆☆ | ★★★☆☆ |
| Maintenance: | ★★★☆☆ | ★★★★☆ |
| Investment potential: | ★★★☆☆ | ★★★☆☆ |
Modern classics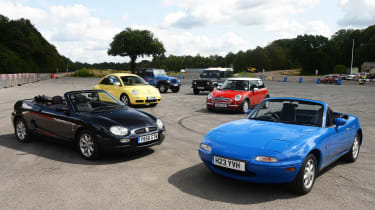 • MINI Cooper vs Volkswagen Beetle• MGF vs Mazda MX-5• Land Rover Defender vs Jeep Wrangler• Best British classic cars you can afford• Best Italian classic cars you can afford• Best French classic cars you can afford• Best German classic cars you can afford• Best Japanese classic cars you can afford• What the Auto Express team drives