Land Rover Defender vs Jeep Wrangler: modern classic head-to-head
The iconic Land Rover Defender and Jeep Wrangler are mud-pluggers and have a fascinating family history
Both the Land Rover Defender and Jeep Wrangler are off-road icons that need no introduction, and each can trace its heritage back to World War Two.
The Wrangler is true in spirit to the original Willys Jeep, developed for the US Army. Indeed, the Jeep name is derived from 'GP', meaning General Purpose, which was its designation as a military vehicle.
The Land Rover was Britain's answer to it. Having seen the success of the Jeep, the Rover Company decided to launch its own iteration, and even built its first prototype on a Jeep chassis.
The two cars here are the truest successors to those two icons. The Jeep Wrangler TJ made its debut in 1996 and returned to a more traditional Jeep look, with twin round headlights replacing the square lights of the original Wrangler. But more significantly, it also marked Jeep's transition to coil-sprung suspension, as opposed to the crude leaf springs that had featured in its previous models.
Otherwise, it retained all of the utilitarian Jeep hallmarks: a folding roof, fold-down front screen, curved bonnet and seven-slot radiator grille that differed little from those of the original.
Land Rover adopted coil springs much earlier than Jeep, with the long-wheelbase 110 arriving in 1983 and short-wheelbase 90 appearing in 1985. The two models continued almost unchanged in appearance until 2016, when the Defender was finally killed off.
The engines changed a lot in that period, though, from Land Rover's old 2.25-litre petrol and normally aspirated diesels, through a new 2.5-litre turbodiesel in 1988 and direct-injection TDI engines from 1990, when the Defender name was introduced. A five-cylinder Td5 followed, to be succeeded by Ford 'Puma' diesel engines in 2010.
Jeep's engine range was more straightforward, with the TJ using a straight-six 4.0-litre petrol engine or a 2.5-litre straight four, which is rare in the UK. The six is marginally less economical, but it sounds great and is better for off roading and towing.
Whichever one of this pair you choose, you'll be driving an icon. The Jeep is the more left-field choice; only 600 a year were imported from the USA so you won't see one on every street corner. The Wrangler also has a huge personality, from its throaty engine note to its surprisingly lively performance, although it tends to pitch and wallow if driven with any vigour. Inside, it feels cheap, too, even when compared with a Defender, which is hardly a paragon of build quality.
Off-road, the Jeep is terrific. With a low-range gearbox and its long-travel suspension, it could possibly even out-Land Rover a Land Rover.
The Defender, though, is a British icon for a reason, and despite its many flaws, it's a vehicle that never fails to put a smile on your face. It may have been developed for purely practical reasons, but Land Rover created one of the best all-time classics.
Owners are passionate about these models, and there is great advice available from forums and clubs. Parts are plentiful for both and DIY maintenance is easy, especially on earlier vehicles. Either would be great as a fun car to keep you mobile in all weathers, tow trailers and enjoy a bit of off-roading.
Partnership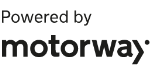 Need to sell your car?
Find your best offer from over 5,000+ dealers. It's that easy.
Today, good Defenders are very expensive, and prices are still rising. You'll need £5,000 for something scruffy but serviceable. For the same price you could buy an immaculate Wrangler.
Land Rover Defender vs Jeep Wrangler
| | | |
| --- | --- | --- |
|   | Land Rover Defender | Jeep Wrangler |
| Years made: | 1983-2016 | 1996-2006 |
| Engine: | 2,495cc 4cyl  | 3,956cc, 6cyl |
| Power: | 108bhp | 114bhp |
| 0-60mph: | 18.8 seconds | 8.8 seconds |
| Price range: | £2,000-£40,000 | £2,000-£8,000 |
| Rarity: | ★★★☆☆ | ★★★★☆ |
| Maintenance: | ★★★★☆ | ★★★★☆ |
| Investment potential:  | ★★★★☆ | ★★★☆☆ |
Modern classics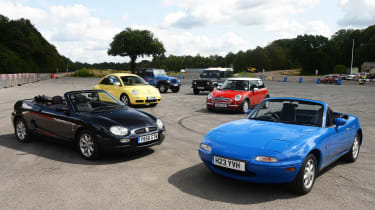 • MINI Cooper vs Volkswagen Beetle• MGF vs Mazda MX-5• Land Rover Defender vs Jeep Wrangler• Best British classic cars you can afford• Best Italian classic cars you can afford• Best French classic cars you can afford• Best German classic cars you can afford• Best Japanese classic cars you can afford• What the Auto Express team drives