Mazda MX-5 Black Edition vs GT
Mazda's latest MX-5 takes cues from its track star brother. But how do the two compare?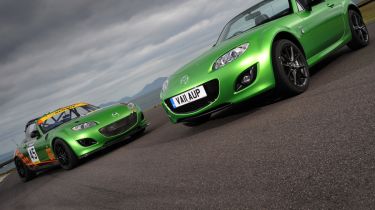 Win on Sunday, sell on Monday – that's the mantra for makers who spend millions striving for motorsport success. By notching up on-track victories, they aim to enjoy success in the showroom.
Mazda is a firm follower of this philosophy, having secured silverware in the World Rally Championship and Le Mans over the past two decades. However, the Japanese giant's latest on-track adventure is closer to home, with bosses entering the legendary MX-5 into the tough Britcar British Endurance Championship.
Despite having less power than big-hitting rivals from BMW and Lotus, the lightweight two-seater has clinched a brace of podium finishes in the hands of Auto Express's senior road tester Owen Mildenhall and fellow racer Mark Ticehurst. To celebrate, Mazda has launched a special roadgoing version of its hardcore MX-5 racer.
With eye-catching paint, a luxurious cabin and a limited production run, the newcomer should be every bit as desirable as its hardcore cousin. To find out, we've brought the two together for a special head-to-head. Which one will pass the chequered flag first?
Verdict
It's been around for more than 20 years now, but the MX-5 shows no signs of slowing down. The Sport Black edition is a prime example of the characterful roadster's enduring appeal, as it features no mechanical revisions at all. In fact, bosses are so confident of the two-seater's sublime driving dynamics that they decided the newcomer needed nothing more than a lick of paint and specially trimmed cabin. For the ultimate in driver thrills, there's no beating the GT. With its tuned engine, bespoke chassis and sticky, slick rubber, this MX-5 serves up breathtaking on-track ability. To get the best out of it, you need to be a highly skilled racer, but even a novice will climb out from behind the wheel wearing a huge grin. The really good news is that the Sport Black special serves up nearly as much 
fun – but for a fraction of the cost.