Mercedes C63 AMG vs Vauxhall VXR8 GTS
The storming new Mercedes C63 AMG tackles the muscular Vauxhall VXR8 GTS in a battle for supersaloon honours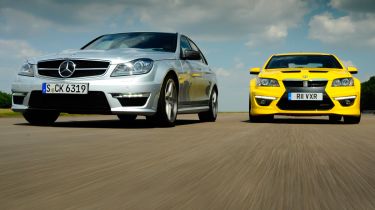 Sensible saloons with sports car performance come in all shapes and sizes – as we have been finding out.
This recipe has whetted the appetites of car fans for decades, and two of the latest models to arrive prove there's plenty of choice for buyers who want pace and practicality in one package.
The Mercedes C63 AMG has recently benefited from the raft of updates already applied to the rest of the C-Class line-up. A new seven-speed transmission, revised looks and tweaked suspension have given the boisterous compact executive a fresh lease of life.
Yet powerful saloons aren't the sole preserve of European car makers. Australians can't get enough of them, and we have our friends Down Under to thank for the Vauxhall VXR8 GTS. The four-door is effectively a rebadged version of Holden's HSV GTS. It's bigger and cheaper than the premium-level Mercedes and, even without our test car's lurid yellow paintwork, the in-your-face styling is the exact opposite of its sleek rival's.
The smaller C63 AMG has a slender power advantage, so can the technology-packed German car beat this Aussie bruiser when it comes to bang for your buck?
Verdict
The C63 AMG was already an accomplished sports saloon and now, thanks to the new gearbox, mild styling revisions and suspension upgrades, it's been subtly enhanced. Its superb 6.2-litre V8 powerplant has been left alone – which is just as well, because it delivers scintillating performance and oozes character. The C63 is great to drive and beautifully built, and Mercedes has ensured it remains right up there with the best cars in the class.
All of which means the VXR8 faces a tough task. It stands out in the non-premium sector with its V8, rarity and bold looks, but while it has more cabin space and is cheaper than its rival, there's little else to recommend it. This means the Vauxhall is soundly outclassed.
The C63 is better than it's ever been, so wins our test by some margin – and more than justifies its price premium over the GTS.
1. Mercedes C63 AMG
The C63 now has a smarter cabin, is cleaner and better looking than before. But it is the focused handling and sensational performance that make the Mercedes a winner. Rear passenger space is tighter than in the Vauxhall, yet in every other respect, the German contender is head and shoulders above its Aussie-built rival.
2. Vauxhall VXR8 GTS
Flawed handling, a low-rent cabin and the lazy nature of the engine make it hard for the GTS to justify its £50,000-plus price tag. Add a driving experience that simply isn't thrilling enough, and even the most ardent V8 fans will find it hard to love the Vauxhall.