Mercedes C-Class Coupe vs 3 Series
Compact executive coupes have always scored on style, but is the all-new two-door Mercedes C-Class more desirable than the BMW 3 Series Coupe?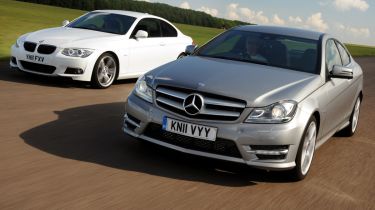 If you're going to turn up fashionably late to a party, you'd better make sure you've got what it takes to make an entrance. And nowhere is this more important than in the style-conscious coupe sector.
It has taken Mercedes nearly 20 years to deliver a coupé version of the C-Class, so expectations are high. Designed to replace the lacklustre CLC hatch, the newcomer promises to blend head-turning style, four-seater practicality and entertaining driving dynamics.
It's based on the recently revised C-Class saloon, and is available only in racy AMG Sport specification, so the Coupé should be just as good to drive as it is to look at. As you would expect, there's a wide range of petrol and diesel powerplants, including a wild V8 in the top-of-the-line C63 version.
However, it is the entry-level C180 that we test here. It features a four-cylinder turbo and a manual transmission, and promises to combine punchy performance with temptingly low running costs. Standing in the C-Class's path to the top is the BMW 3 Series Coupe. The evergreen machine is a firm Auto Express favourite, and even in basic 318i form tested here, it sets the benchmark for desirability, driving dynamics and upmarket appeal.
So, is the Merc set to be the heart and soul of the party? Or will it be left to play catch-up?
Verdict
When buying a coupe, most buyers dismiss price and practicality in favour of design and desirability. But our rakish four-seaters mix the best of both worlds, being stylish and sensible. So, which car makes more sense? The sleek BMW certainly packs plenty of showroom appeal. Not only does it cost less than its rival, it's a cheaper company car choice and should be worth more at resale time. Sadly, it's let down by an engine that lacks punch and, in M Sport guise, suspension that sacrifices too much comfort in the pursuit of sharp dynamics. These aren't complaints you can level at the C180. Its turbo feels keen and delivers strong pace, while the chassis serves up a superb ride and handling balance. It also looks great, has an upmarket cabin and is overflowing with kit. It costs more to buy and run, but in the coupé sector it's worth paying extra for something special.
1. Mercedes C180 Coupe AMG Sport
Following the disappointment of the CLC, the C-Class Coupé represents a real return to form for Mercedes. It's eye-catching, great to drive and comes packed with desirable kit as standard. The car is also surprisingly practical, comfortable and refined. It is more costly, but we think it's worth the extra outlay.
2. BMW 318i Coupe M Sport Despite its advancing years, the 3 Series still has a lot to offer. A recent facelift has helped keep it in the limelight, while classy cabin has the edge for upmarket appeal. Low emissions make it a desirable company choice. But it's let down here by a breathless engine and flawed dynamics.