BMW M5 vs Jaguar XFR
Power. Pace. Poise. That's what the new BMW M5 is all about, but can it beat the thrilling Jaguar XFR?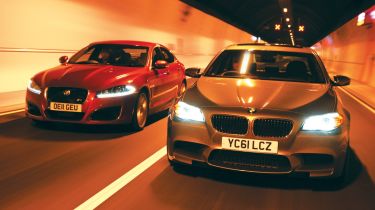 Producing the ultimate supersaloon requires supreme focus. The usual rules don't apply here, as what we're after is the maximum bang for our buck... or are we? BMW has helped to make the go-faster executive car what it is today, and its M division has refined the formula on a succession of tuned 5 Series models down the years.
The latest should be the best yet, and not simply because it's faster than ever. Believe it or not, the new M5 has more power and torque than the incredible old V10, yet its twin-turbocharged V8 engine promises to cut fuel consumption by 30 per cent and slash CO2 emissions in the process.
That's all well and good, but the Jaguar XFR looms large in the BMW's mirrors. With its freshly revised looks and supercharged V8 engine, it has the firepower to win this contest. Which car will emerge into the daylight in front?
Verdict
Picking a winner in this test is no easy task, as both our contenders are hugely desirable high-performance cars. If you're looking for ultimate muscle and handling, the BMW takes some beating. Its magnificent twin-turbocharged engine delivers stunning pace, while its hi-tech chassis has huge reserves of grip and ability.
What's more, the M5 combines this supercar performance with the same impeccable quality, family-friendly practicality and relaxing refinement as other models in the 5 Series line-up. Just as superb are its 232g/km CO2 emissions, great-value pre-paid servicing pack and rock-solid 47.9 per cent residuals.
Against such a sustained onslaught, you would expect the Jaguar to roll over and accept defeat. The XFR can't match the BMW's ferocious acceleration or its outright composure in corners, plus it emits more CO2. However, it isn't exactly slow, plus there's no ignoring its bargain price and long list of standard equipment. And while its interior isn't quite as roomy as the M5's, it's just as classy and refined. Crucially, the Jag is more engaging and fun to drive for more of the time.
In the end, it's a photo finish for our two thoroughbreds, but by the narrowest of margins the Jaguar takes a well deserved win.
WinnerJaguar XFR ★★★★★ A recent mid-life refresh has revitalised the XFR, helping the car successfully take the fight to newer models. And while it's not the fastest sports saloon money can buy, it's certainly no slouch. The Jaguar can also suit your mood perfectly, with an ability to thrill and relax in equal measure. But it's the bargain price that seals victory for the XFR in this test.
2ndBMW M5 ★★★★★ Be in no doubt: the latest M5 is a towering technical achievement. Its V8 is a masterpiece, while its sophisticated chassis provides sports car agility and limo luxury – and both go some way towards justifying the sky-high price. However, the hugely accomplished BMW simply doesn't deliver enough driver involvement.