Renault Grand Scenic vs Vauxhall Zafira Tourer
Renault is rethinking its strategy in Britain – and a new Grand Scenic is leading the way. Here it faces the Vauxhall Zafira Tourer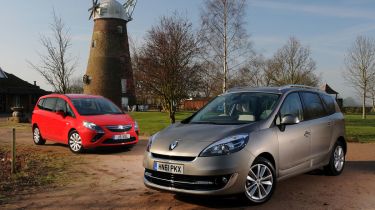 It's all change at Renault. After dropping five models from its UK line-up and shaking up its dealer network, the company is eyeing a dramatic revival in its fortunes.
The first new-look model to bolster its ranks is the facelifted Grand Scenic compact MPV. The seven-seater has consistently outsold its five-seater stablemate and is something of an Auto Express favourite. Its latest revamp is designed to give it a shot in the arm, with a slimmed-down range, styling tweaks and the introduction of two efficient new turbocharged engines.
To test the Scenic's mettle, we've pitted it against the all-new Vauxhall Zafira Tourer. This is a car that straddles traditional class boundaries and sits between full-sized and compact MPVs on space. It came up short against the larger SEAT Alhambra and Ford S-MAX, but dropping down a class should improve its chances of scoring a morale-boosting victory.
Here, we put the two people carriers through their paces in a diesel head-to-head. Read on to see which gets our vote...
Verdict
Renault really understands what family buyers want and that approach has helped the new Grand Scenic score a well deserved victory in this test. It fully justifies its place in the company's refreshed line-up and everything from the revised stereo to the comprehensive aftersales package shows that Renault is trying to address its traditional weaknesses.
There are brilliant family-friendly touches like the convex mirror, which lets you see what's going on in the back from the driving seat, and they demonstrate the depth of the company's MPV expertise. You also get a generous supply of stowage cubbies and these user-friendly details help to compensate for the Grand Scenic's less flexible seating arrangement.
In contrast, the miserly equipment list, poorly judged pricing structure and firm ride of the Vauxhall make it difficult to recommend after driving the Renault. The Zafira Tourer is not a bad car – it features a versatile and practical seating system and looks bang up to date – but it sits somewhere in the middle of the MPV segment.It's too expensive for a compact model and too small to rival a full-sized people carrier.
In the end, that costs it dearly as the cheaper Renault is just as big inside, more comfortable and comes loaded with desirable kit.
WinnerRenault Grand Scenic ★★★★ A masterly performance by the Renault sees it return to the ranks of the compact MPV class leaders. It's not as agile as the Zafira, but its focus on comfort rather than thrills makes it a brilliant family car. The revised looks, advanced engine and superb kit count only serve to maximise its appeal. Renault's 4+ package is the icing on the cake.
2ndVauxhall Zafira Tourer ★★★ Another near miss by the Vauxhall as it records a second straight defeat. With its striking design, premium interior and clever seats, it has all the ingredients of a cracking MPV, but it fails to fulfil its potential. We'd gladly trade some of the Zafira's poise for a more forgiving ride, and the Vauxhall is both more expensive and less well equipped than its rival.