Ford Focus ST vs rivals
We see if the new Focus ST can live up to the Ford hot hatch legend as it tackles the Renaultsport Megane and VW Golf GTI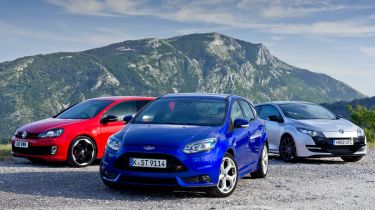 Britain's love affair with fast Fords stretches back nearly half a century, to when the legendary Lotus Cortina first broke cover. So the arrival of the latest Focus ST hot hatch is big news indeed.
The newcomer has all it needs to take home class honours: a new 247bhp 2.0-litre turbo engine, uprated chassis and very aggressive looks. To find out if it can, we've driven one of the first production models to the south of France to meet two of its toughest rivals.
The VW Golf GTI really needs no introduction. Our reigning hot-hatch champ is a great all-rounder, especially in range-topping Edition 35 trim. Setting the standard for driver thrills is the revised Renaultsport Megane. With its punchy 261bhp turbo engine, sharp chassis and sleek looks, it presents a stern challenge to any class newcomer.
So can the brand-new Focus ST topple these very capable rivals in its road-test debut and join the ranks of the truly great fast Fords?
Verdict
So, has the new Focus ST been worth the wait? Oh yes. As we've come to expect from Ford, this latest hot hatch is fast, fun and great value.
It certainly has the measure of the Megane in this test. The revised Renault is still very rapid, thrilling to drive and great to look at. But it's hobbled by its three-door layout, noisier cabin and less robust build.
There are no complaints about the Golf's rock-solid quality, while its upmarket cabin and premium image are unrivalled here. It also packs a strong blend of driving fun and grown-up refinement, while in Edition 35 form the GTI is faster than ever. Yet ultimately, it trails the Ford.
The ST fits the hot hatch bill to perfection. It's huge fun on a back road blast, yet also a refined cruiser and extremely practical family car. And like all fast Fords, the Focus is affordable to buy and run. It takes a well deserved victory.
WinnerFord Focus ST-3 ★★★★★
We were expecting great things from the new Focus ST, and it didn't disappoint. The 2.0-litre EcoBoost delivers a knock-out punch, while the car's ride and handling balance is sublime. An attractive price tag, versatile interior and generous equipment are the icing on the cake.
2nd VW Golf GTI Edition 35 ★★★★
After four years at the top, the Golf GTI has finally suffered a road test defeat. The original hot hatch is still an engaging and desirable car, but in Edition 35 guise it's expensive and starting to show its age. Standard model is cheaper, but can't match the firepower of the Ford or Renault.
3rd Renaultsport Megane 265 ★★★★
The revised Megane is still the first choice for pure driving thrills, even without the hardcore Cup chassis, while uprated engine delivers explosive pace. Yet it lacks its rivals' all-round appeal and three-door body limits its family-car credentials.