BMW 640d Gran Coupe vs rivals
BMW has launched its own CLS rival, but can the 6 Series Gran Coupe beat Mercedes and Porsche?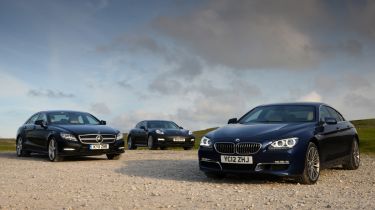 If imitation is the sincerest form of flattery, Mercedes must be feeling rather good about itself. It was the first company to create a four-door luxury coupe – with the CLS in 2005 – and its rivals have been scrabbling to follow suit ever since.
The latest to join the pack is BMW. Its 6 Series Gran Coupe arrives this month, from £61,390. The four-door is essentially a stretched version of the 6 Series Coupe, and straddles the 5 Series and 7 Series line-ups in BMW's busy range. It's available with a pair of six-cylinder engines from launch, and here we test the £63,900 640d SE.
Having started the four-door premium coupe sector all that time ago, the CLS has the advantage of being one step ahead of the competition. It's now in its second generation, and offers head-turning looks, a broad engine range and sharper dynamics than its predecessor. We've chosen the mid-range CLS 350 CDI Sport, priced at £54,210.
Completing our test trio is the Porsche Panamera. It sets the standard for driving thrills in this class, plus in £62,134 diesel guise it should be affordable to run.
All three cars are stylish alternatives to the conventional premium saloon – but in a market where design is king, which is the best all-round package?
Verdict
All three of these cars combine sportiness with striking design and surprisingly affordable running costs. And, if we were judging purely on engineering, design and ability alone, the new BMW Gran Coupe would be a clear winner. It's handsome, fast and beautifully made, and a delicious combination of form and function. But there's a problem – it's too expensive. Even with similar levels of kit, BMW wants £10,000 more for the car than Mercedes asks for the CLS.
The Panamera sits between the two on price, but finishes this test in third. The styling doesn't push the same buttons as a 911 or Boxster, while the engine and drivetrain feel a little ordinary in a car of this calibre. It drives well, looks solid and delivers surprisingly palatable running costs, but it lacks character and simply doesn't deliver the right feeling - whichever seat you're in.
All of this leaves the CLS as the winner of this test. Although it disappoints in some areas, it's a well balanced package with a fine engine and loads of kit. We can't often call a Mercedes a bargain, but in this company it really is a steal.
Winner: Mercedes CLS ★★★★
There's a lot to like about the CLS – not only its price. The styling isn't as elegant as the original, but it's still a head-turner with some very clever details. The CDI engine is another highlight, and helps deliver a wonderfully smooth drive – especially when travelling at motorway pace.
2nd: BMW 640d Gran Coupe ★★★★
Thanks to its gorgeous styling, intelligent cabin and powerhouse of an engine, the Gran Coupe is a wonderfully competent package. It has the edge on performance, and also feels the most cohesive design here. If BMW could make its price more competitive, this would be the class leader.
3rd: Porsche Panamera ★★★★
The five-door Panamera has a lot going for it, but in this company it doesn't quite hit the mark. Although the chassis is pure Porsche, the engine lacks character and the styling is hard to love. It delivers decent fuel returns and bags of space inside; that's just not enough in this company.