Mercedes CLA 220 CDI Sport vs Volkswagen CC GT 2.0 TDI
How does the new Mercedes CLA match up to the Volkswagen CC? We find out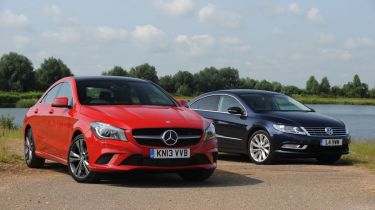 In the relentless pursuit of sales, premium manufacturers Audi, BMW and Mercedes are intent on filling almost every niche. As a result, the compact saloon class, which has sufferedfrom a lack of attention in recent years, is coming alive again.
A new Audi A3 saloon is on the way later this year, while Mercedes has launched its own small four-door, in the shape of the CLA. Merc's newcomer follows the sporty four-door coupé formula that was pioneered by the larger CLS. Under the skin sits the running gear of the efficient front-wheel-drive A-Class hatchback.
Prices range from £24,355 to £31,555, which places it in direct competition with the Volkswagen CC. The CC is slightly larger than the CLA, but it's equally stylish, while BlueMotion technology helps to boost efficiency. So can the new Mercedes take victory on its road test debut? Or is the more established Volkswagen the stylish four-door to go for?
Verdict
This is a finely poised test, as both cars have their own merits and shortcomings. The Mercedes CLA is an intriguing expansion of the A-Class range, and it benefits from that car's stylish interior and efficient yet powerful engines. On the downside, the 2.1-litre CDI diesel engine is quite noisy, while the stiff suspension gives the CLA a very firm ride, which is made worse by the optional run-flat tyres.
In contrast, the Volkswagen CC is a lot more comfortable at motorway speeds, has a spacious interior and some great practical touches. In addition, the 2.0-litre TDI diesel is more responsive than the Mercedes' engine, and the CC is more engaging in corners, too. However, it's more expensive to buy and costlier to run, because its diesel isn't as clean or efficient as the CLA's.
The VW does come with more standard kit for your money, though – you would have to spend a lot of cash to get the CLA up to the same spec. But no amount of options can compensate for the Merc's uninspiring driving experience and smaller interior.
As a result, it has to come second in this test. The CC is a better all-rounder in the four-door coupé class, and while it's not much more than a Passat in stylish clothes, its combination of talents hands it a narrow victory over the CLA.