Caterham 7 160
Buy it whole, or build it yourself, the Caterham 7 160 is the entry point into the Caterham range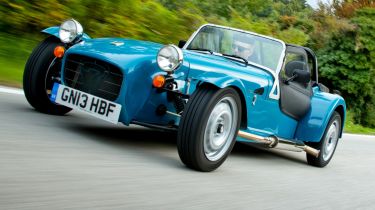 Price: £17,495*Engine: 0.6-litre three-cylinder turboPower: 80bhpTorque: 107Nm0-62mph: 6.5 secondsTop speed: 100mph*In kit form
If you needed proof that less can be more, then look no further than the Caterham 7 160. Inspired by its Fifties Lotus 7 predecessor, this back to basics two-seater has been designed to deliver maximum thrills on shoestring budget.
Underpinning the Caterham's low cost approach is its pint-sized Suzuki three-cylinder engine that pumps out just 80bhp and 107Nm. Yet thanks to the 7's featherlight 490kg kerbweight the 0-62mph sprint takes a lively 6.5 seconds.
It feels as fast as the figures suggest, too. Once the 660cc unit's turbocharger is spinning, the Caterham surges forward with every prod of the throttle, while the five-speed gearbox provides a quick and precise shift. The blare from the exhaust and distinctive chatter from the turbo's wastegate only add to the drama.
As with every 7, the 160 delivers an almost telepathic connection between the road and driver. Feedback floods through the tiny steering wheel and the Caterham can be placed with pinpoint accuracy through a series of corners.
And while the super skinny tyres provide a remarkable amount of grip, when the Caterham does start to slide it's at relatively low speed, inspiring confidence and allowing you to access its engaging dynamics anywhere and anytime.
Build it yourself and the 7 will set you back just £17,495, plus it'll cost no more to run than a city car. In terms of delivering big thrills and small bills, nothing comes close to matching the remarkable Caterham.
Best cheap fast cars 2018
2. Caterham 7 160
3. Mazda MX-5
5. Hyundai i30N
8. Toyota GT 86
10. Fiat 124 Spider