Toyota GT 86
The Toyota GT 86 is one of the few new sports coupes on the market with accessible performance and importantly, price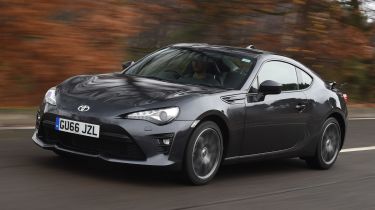 Price: £26,885Engine: 2.0-litre 4cylPower: 197bhpTorque: 205Nm0-62mph: 7.6 secondsTop speed: 140mph
One of the most talked-about performance cars of the last couple of years is the Toyota GT 86. With just 197bhp on tap it's not the most powerful car in the world but the narrow tyres and rear-wheel-drive layout ensured it felt really engaging, even at slow speeds.
Compared to the 342bhp Nissan 370Z (to which it is similarly priced and has similarly laid out drivetrain) it may seem like you are getting sold a little short, but its low weight and excellent handling make up for its lower power output.
You can buy a GT 86 with either a six-speed manual or automatic and it it thrills you are after the manual is the only option you want to look at. There is, of course, the Toyota's identical twin, the Subaru BRZ, which adds a little more variety into the mix. You will get a bit more exclusivity with the Subaru badge, but the benefits of a wider dealership network with a Toyota one. Other rivals to the 86 include the Audi TT, but starting at around £33,000 it isn't nearly as affordable as the 86 can be.
Best cheap fast cars 2018
3. Mazda MX-5
5. Hyundai i30N
8. Toyota GT 86
10. Fiat 124 Spider