Suzuki Swift Sport
Suzuki's fun Swift Sport returns, albeit it's slightly more expensive than the previous model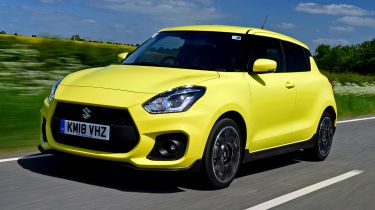 Price: £16,499 (until June 30)Engine: 1.4-litre 4cyl turboPower: 138bhpTorque: 230Nm0-62mph: 8.1 secondsTop speed: 130mph
It's one of the cheapest cars on this list but it does a great job of turning every drive in to a fun one. The turbocharged engine is eager to launch forward at a stab of the throttle and works well with the close ratio six-speed gearbox.
One of the few downsides to the Swift Sport is the traction control system, which can be a little ham-fisted at times, but for those looking for a bit of cheap fun for the road and not a car to drive on the very edge, this shouldn't be a huge problem.
The mechanical upgrades over the standard model sell themselves on British B-roads and while the Sport jiggles around a little in town, at higher speeds it has a well-judged suppleness.
Best cheap fast cars 2018
3. Mazda MX-5
5. Hyundai i30N
8. Toyota GT 86
9. Suzuki Swift Sport
10. Fiat 124 Spider