Ford Fiesta ST
Ford has been back on form with hot hatches recently, and the latest Ford Fiesta ST is no exception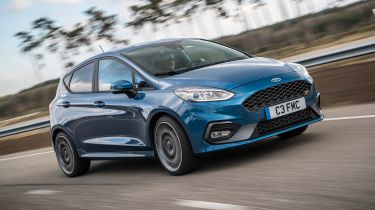 Price: £18,995Engine: 1.5-litre 3cyl turbo petrolPower: 197bhpTorque: 290Nm0-62mph: 6.5 secondsTop speed: 144mph
When it comes to performance per pound, the hot Fiesta ST takes some beating. Power by a feisty 197bhp turbocharged 3-cylinder and boasting acrobatic agility, this souped-up supermini is a fast Ford in the finest tradition.
From the moment you settle into its figure-hugging Recaro seat and grip the chunky three-spoke steering wheel you know the ST means business.
Twist the key in the ignition and the 1.5-litre engine burbles purposefully into life. On the move it responds crisply and quickly to the throttle, firing the Ford down straights like a cork from a bottle.
But it's through a series of corners that the Fiesta shines brightest. The steering is quick and full of feel, there's bags of grip and rock solid body control. Yet despite this composure, you can subtly alter the car's attitude mid-bend. Few cars will put a bigger grin on your face.
Even better, like every other Fiesta, the ST looks great, is well-equipped and packed with kit. Plus at £18,995, it's one of the performance car bargains of the decade.
Best cheap fast cars 2018