New Chevrolet Volt teased
Second-gen Chevrolet Volt teaser picture ahead of its Detroit Motor Show debut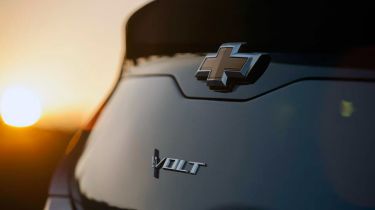 A teaser of the new Chevrolet Volt has been released online via social media, with the accompanying caption confirming a full public debut is set for the Detroit Motor Show this coming January.
Focused on the second-generation plug-in hybrid's rear badges, the image itself doesn't give much away, although our latest spy shots suggest the overall proportions will carry over, right down to the same low nose and steeply rising waistline.
The Volt is expected to stick with some form of the current petrol engine and electric motor hybrid system, too, although Chevrolet owner GM could reduce the size of the battery pack to keep costs down and cut weight.
While this will result in a shorter electric-only range, GM sees this as a necessary step for both the Volt and its Vauxhall Ampera sister car, with bosses describing the existing models as "simply too expensive."
"In the coming years I don't think you will need 100km [62 miles] of electric range," revealed Thomas Sedran, GM's Vice President of Strategy and Operations. "Around 30 to 50km [18 to 30 miles] should be enough to get you in and out of town and after that you still have the range-extender engine to help."
Such a move would tally with recent comments made by Opel/Vauxhall boss Karl-Thomas Neumann, who confirmed the brand's next range of electric vehicles will "continue to drive down costs and deliver affordability." The aim is clearly to pitch a markedly reduced price tag for the Ampera's successor here in the UK, which currently starts at £28,750 after the government's £5000 incentive for plug-in cars has been deducted.