Car hunter: Compact MPVs
Our reader has £10,000 to spend on a small but versatile people carrier. So what should he buy?
Dear Chris,I'm looking for a small, five-seat people carrier that has plenty of flexible and practical touches. My budget is £10,000. What do you suggest?Kevin Willett, E-mail 
If you'd like help choosing your next car, contact chris_ebbs@dennis.co.uk.
The best buys:
The stylish choice: Citroen C3 Picasso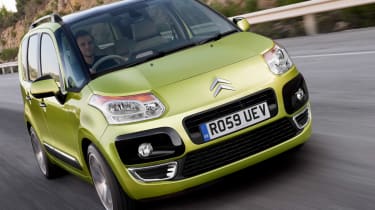 For: Interesting styling, versatile interiorAgainst: Sparse kit, lacklustre petrols
The Citroen C3 Picasso is one of the few small people carriers with distinctive looks. The smooth curves, oversized headlights and raised ride height all help it to mix style and substance quite effectively.
Visibility is good thanks to the clever use of glass round the A-pillars. Inside, the car is versatile and practical, with plenty of storage solutions, while refinement is also pretty good: wind and road noise are kept to a minimum.
There are plenty of examples well within your budget, mainly due to poor residual values. We found a 59-plate 1.6 HDi VTR+ model with 20,000 miles on the clock for only £8,484. Stick to the diesel engines, as the petrol versions feel lacklustre in comparison. Aim for higher- spec models, too, as entry-level trim can feel spartan, especially compared to the well equipped Hyundai.
Good value option: Vauxhall Meriva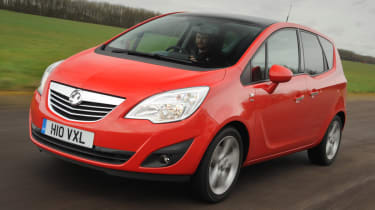 For: Clever door systemAgainst: Poor residuals and equipment
Taking the popular Vauxhall Zafira as its inspiration, the latest Meriva offers flexible seating: the rear seats can be moved backwards, forwards or even inwards to make a more spacious four-seater. There are also practical, wide-opening, rear-hinged doors. The FlexRail sliding storage system in SE cars and above is even more useful.
More reviews
Car group tests
In-depth reviews
Long-term tests
Road tests
Used car tests
Like the Citroen, the Vauxhall doesn't hold its value particularly well. This means you can easily find one for less than your £10,000 budget. A 2011 1.4-litre Exclusiv with 10,000 miles on the clock is yours for £7,695.
You should choose a high-spec model, as basic cars come without important kit such as alloy wheels and air-conditioning. As you're not the first owner, you won't get Vauxhall's 100,000-mile warranty – unlike Hyundai's cover, it can't be transferred to the car's second owner.
The sensible buy: Hyundai ix20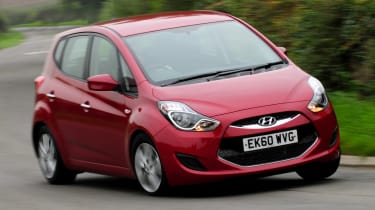 For: Smooth ride, lots of practical spaceAgainst: Rough diesel, notchy manual
Having initially focused on its core cars, Hyundai launched the ix20 to take on MPV rivals like the Meriva, and it was a hit. With 440 litres of boot space – more than in a Volvo V50 – and sliding rear seats that fold down fully flat, this is an extremely versatile small car.
Even more impressive is the ride. Hyundai worked hard to ensure the ix20 would handle the rigours of the UK's rough roads without causing occupants too much grief. Then there's the five-year warranty, which can be transferred to subsequent owners for peace of mind.
Prices are more robust than for the Citroen and Vauxhall, so your choice is limited. We found a 60-plate 1.4-litre petrol ix20 with 6,000 miles for £9,995. The diesel is best avoided, as it's quite noisy. Visibility is good, while all cars come with plenty of kit as standard.