Citroen C3 Picasso vs Ford B-MAX
Is the revised Citroen C3 Picasso a master of the MPV art? We find out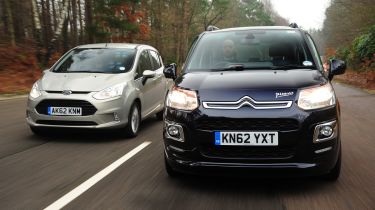 The innovative Citroen C3 Picasso is a forgotten star of the supermini-MPV class. A mix of oddball styling and great interior space took it straight to the top of the class when it was launched in 2009. However, a raft of new, more sophisticated rivals has overtaken the small people carrier since then.
To help revive the Picasso's fortunes, Citroen has refreshed its styling and upgraded the engine line-up. There's also new upholstery inspired by the company's luxurious DS models. Factor in great-value pricing, and the C3 could reclaim its place at the top.
Standing in the way is our current class leader, the Ford B-MAX. With its party trick of pillarless sliding doors, it's one of the most flexible small MPVs, despite its compact size. Better still, Fiesta underpinnings give a superb driving experience, while the smooth diesel engine promises low running costs.
So, which of our distinctive and practical contenders will win this family space race?
Verdict
These two supermini-MPVs seem to cater for very different audiences, but they also have a lot to offer over more fashionable small crossover models. The result of this test was much closer than we expected, even though the cars have different approaches to delivering big practicality in a small package.
The Citroen seems a little dated inside, but the versatile cabin is impressively practical and the revised exterior is distinctive and bold. The car is also easy to drive and, if you can afford the higher tax bills, the 1.6-litre HDi engine offers better performance than the Ford's diesel. However, the B-MAX's unique pillarless doors provide unrivalled access to the rear seats, and the Ford feels like a higher-quality product, too.
For small families with child seats, the Ford is a better bet, while the Citroen will suit those with older kids. Still, the B-MAX is cleaner and nicer to drive, and if you don't cover very high mileage every year, the lighter and faster 1.0-litre EcoBoost petrol version is worth looking at.
Modern engine technology and superior safety equipment push the Ford over the finish line in first place here – but the margin of victory is very narrow and the C3 Picasso remains a fine choice for good-value family motoring.